Today Toyota announced what we've been expecting for months now: The Gazoo GR Super Sport Concept will go into production, 1,000 horsepower from a turbo, hybrid 2.4-liter V6 and tech fit for a Le Mans prototype. But this is about more than just a car going on sale.
This is a car that is ready to compete in the top class of the 24 Hours of Le Mans being able to be purchased for road use. This is something we haven't seen since the days of GT1, the glory years of when supercars raced on track, of the fastest and most outrageous roadgoing race cars of the modern era.
G/O Media may get a commission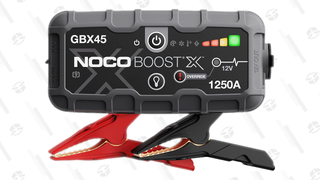 13% Off
Noco Boost X GBX75 Jump Starter
This is all thanks to the FIA starting up an as-yet-unnamed top prototype class for Le Mans in 2020.
Emphasizing road car looks over pure aerodynamics, the "hypercar" class is meant to cut costs from today's alien-pod LMP1 cars and make the fastest endurance race cars in the world look, you know, cool. Make them look like road cars.
I reached out to Toyota for comment if the road car that we'll see as a develop of the GR Super Sport Concept will also be the basis of their contender for this new top class and, sadly, could not get any official comment.
But.
Like.
C'mon.
We all know how this is going to go.
Now, the distinction to be made between what's going on here and what GT1 was like is pretty clear: in GT1, car manufacturers were required to produce roadgoing versions of their race cars. These were called "homologation specials," and that's not a requirement of the new class for 2020. All we need for 2020 is for the prototypes to look like road cars. Toyota's roadgoing race car is a fun play on that requirement, but it's not an out-and-out homologation special in the way that, say, the Porsche 911 GT1 Straßenversion was, or the Mercedes CLK-GTR.
Still, I am incredibly hyped. I have been waiting for this kind of racing to come back for years now. I can't imagine I'm the only one.