Wait a second, did I mean to say "last" and not "fast"? Yes I did. This is what its like to be in last place. This is my life at what I can only hope is the bottom of the barrel.
Now as a precursor, I must delve into a bit of a back-story, as it pertains to being last. My second oldest brother, Bard, has always been a huge sports fan. I was never much of a sports fan but would occasionally watch when racing wasn't on, as a way for two brothers to spend time together.
In watching of one of our favorite sports; golf, we would always look up the WORST player of the week, or the year, and say, "Now that's our guy! Go Mr. LAST!"
The mere mediocrity and realization that this man was the worst guy in professional golf but would kick our butts any day, was amazing to us. It was also partially a big joke for us. We would laugh at his results and his unrelenting determination.
The fact that this man also made a better living then 99% of the world was intriguing. When you're the worst player in a real professional sport, you're still better off than most people. Here he is, the worst in the PGA, and making at least a million dollars.
G/O Media may get a commission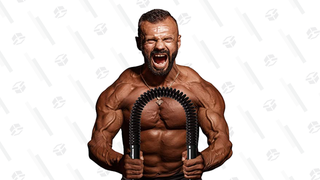 10% off
Zenooze Boa Power Twister
Moving forward a couple years, Bard and I became huge football fans. So in keeping with tradition, our fascination with finding the "worst" constantly led us to quarterbacks who were playing at a team like the Jacksonville Jaguars and were rated the worst in the NFL. Once again, the idea that a guy was able to make an amazing living, probably never going to even see a Superbowl but being completely mediocre, was fascinating. Plus, he was able to have a career that would span many years and to fill a void for that organization, knowing he was just good enough to get the job done.
We would look up these athletes through the spotty info you could find on Wikipedia or their sports website. The goal was to find out what makes this guy do what he's doing. How can he be this far back and get up each morning? The answers were not always readily available but the search was almost just as fun.
To be fair, we weren't really fans of these athletes, it was something fun for us to do. A sort of athletic rubbernecking. We rooted for guys like Tiger Woods and Phil Mickelson, or our favorite sports team (the Giants). In racing, it was the same for me. I would always say, "I am a fan of excellence," which is why my favorite race car driver was Michael Schumacher. He was the best in his timeand may be the best there ever was. Sadly, as we all know, Michael Schumacher is still in a coma, so I must say, he is still in my thoughts and prayers; Forza Shumi!
With that said, as I got closer to racing in NASCAR, I discovered that only a fraction of motorsports had these "journeyman" athletes, the ones that aren't household names but are still slugging it out each week with the top guys. Once again, my brother and I were fascinated. We researched some (all who will remain nameless) and I then I kind of forgot about this pastime, as my aspiration to be the best racecar driver took over.
Fast forward. In a conversation leading up to our sixth race this past weekend, my brother and I joked that I was close to being "that guy" in last. So never one to disappoint, as of writing this only mere hours after being at Martinsville, I can officially say: I am "that guy" in last. Please hold your applause.
In my last Jalopnik column, I wrote about "How Not To Start Your NASCAR Sprint Cup Career." After that, we went out to California and actually had a weekend shaping up to be a career-defining result. We qualified 32nd but only 50 laps into the race, found ourselves knocking on the door of the top 15.
In this race there was many tire issues happening to the front cars, none of which we were experiencing. So when running 19th, just before halfway, I was wrecked by the 13 car. To give an example of why I think it would've been a career best day, in my first Cup race where I finished 18th, I didn't crack the top 20 until there were 50 laps left, and there was no attrition in that race. In California this year, I was in the top 20 after having passed all those cars. The cars I was racing against all finished from 8th-11th. Any place in there would have been the best-ever finish for Swan Racing and myself in only seven starts.
Nonetheless, we moved onto Martinsville. In a combination of cold brakes and not seeing the wreck as it happened too far ahead of me, I punctured my radiator before completing the first lap and got stuck on the infield curb. It effectively ruined our day and relegated us to a 41st finishing position, with a car that should of run anywhere from 30th-25th speed wise. It left me far from being the best and most certainly last.
All of which has me perplexed and here's why: As a driver, I have never felt better, more prepared or on top of my game since I stepped into the 30 car back in November of last year at Texas. My fitness level is the best it's been in my whole life. My preparation each week is like clockwork and I believe my team will be the first to back me up on that. As a driver, I have never been this confident in my work ethic and abilities as of right now.
Never have I driven with more focus and understanding of exactly what I want from my racecar, and how to achieve it. My pit stops have been excellent, getting into and out of the box. My pit crew has done an awesome job this year when given the chance to actually do a normal pit stop. My crew guys and I have had a great relationship throughout these uncontrollable events. So I'm astonished by the lack of results we have to show for how good of a team we actually are. Our execution is the only element we are missing and when it comes, I'm sure we can turn this around.
So for those fellows just like my brother and I who are thinking, 'Man, I wonder what the heck that Kligerman kid is thinking, in LAST?' I'll save you the trouble. I am thinking that it sucks. No real way to sugarcoat it, but as my manager said "You could be flipping burgers," to which I replied, "Or dead." So there are certainly worse things that could happen than being last in the NASCAR Sprint Cup Series.
However, I have never liked that argument. Or the, "You are one of only 43 in the world" thought process. That implies the notion that you can be happy, just being a part of the show. As many of you know, racecar drivers are very confident and competitive, many times to a fault. I am no exception. I will admit that I have been called "cocky" or "confident" far too many times to count. It's for this reason, we don't want to be a part of the show, we want to be "THE SHOW."
Many of you might look at my income at 23 years old and say that I have nothing to complain about, or the fact that I have the great pickup line of "I am a NASCAR driver" (works better in Charlotte than Manhattan, if you're curious) and tell me to shut the hell up and drive. But I am a competitor. I live and die by the number beside my name on a white sheet of paper. That is the sole thing I spend each and every waking moment working for, every second is spent in an effort to be better. My team is constantly striving to improve. So even when it may all be "relatively great" for us, it is everything we do to not be last.
The old line of "blood, sweat, and tears" has never felt truer than for the top 43 teams racing in the NASCAR Sprint Cup Series. These mechanics and crewmen work 12-14 hour days every week. They only get one day off, on a Monday, mind you. They spend countless hours in hot and dirty conditions, sub-par hotels, slinging wrenches and occasionally fists, just to propel a racecar around a racetrack. They also have families to support, meaning there's more at stake than a good result.
Being in last means my team is being viewed as "not doing a good job" or can potentially be in jeopardy of not qualifying for a race, which could be devastating for our sponsors and partners. This eventually puts my crew guys' jobs in jeopardy, if our supporters weren't there anymore. Yes, I'd be out of a job but families would be without income as well. I represent not only myself but also the families of the guys who allow me to go out there and go fast.
So "Life in the Last Lane" is certainly fast and exciting. It has its perks, it has its downsides, and most definitely comes with a pressure that only few will ever know.
It is worth noting that no matter what happens, I can assure you that guy/team in last does NOT want to be there and is doing everything they can to climb out of that spot. Mario Mendoza may be famous for having the minimum batting average necessary to be an acceptable MLB starter, but I think he'd rather be Hank Aaron.
It may have been luck that put us in this spot, but it will be determination and hard work that will get us out. I want to be the guy that my brother and I would have cheered for… but because of excellence, not amusing failure.
Parker Kligerman is currently a professional driving racing in NASCAR's Sprint Cup and was voted "Most likely to land on his roof" by his high school classmates.
Photo: Getty Images/AP