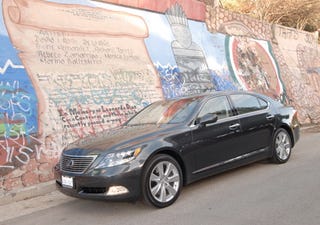 As if people who drive any of the fine automobiles from Lexus didn't feel privileged enough already (the Lexus LS600h L made Jonny feel like a king), they're apparently going to get reserved parking at the Wachovia Complex/Comcast-Spectator Arena in Philadelphia. That means those going to Sixers or Flyers games can park in special Lexus-designated spots on two lots surrounding the complex. Those of you in the Caddys and Saabs can just park in the regular spots like the worthless pieces of trash you are. Press release below the jump:
LEXUS CUSTOMERS NOW HAVE RESERVED PARKING AT WACHOVIA CENTER IN NEW DEAL WITH COMCAST-SPECTACOR
Philadelphia, PA - December 10, 2007) Lexus drivers in the Greater
Philadelphia Region now can have priority parking at the Wachovia
Center as part of a new sponsorship package between Lexus and arena
owner Comcast-Spectacor.
"Lexus continues to be a great advertising partner of ours," said
Comcast-Spectacor President Peter Luukko. "As we continue to look for
new and exciting opportunities for our fans and our sponsors, Lexus
remains a terrific partner.
"As a result of this new arrangement, we're able to offer our
customers who drive Lexus cars an opportunity to park in a specially
designated space with other Lexus owners."
As part of the new three-year advertising and sponsorship package,
Lexus drivers can park in a designated Lexus parking spot in either of
two lots in the Wachovia Center (C-Lot and E-Lot). Additionally, these
new parking sections will feature Lexus advertising prominently
featured on the light polls.
The new sponsorship package also includes advertising signage inside
the Wachovia Center where Lexus already owns the naming rights to the
arena's private, exclusive courtside club. Lexus commercials will also
air during Philadelphia Flyers and 76ers broadcasts on Comcast
SportsNet. Additionally, Comcast SportsNet will now air a Lexus
sponsored "Sports $ense" segment regarding the financial sports news.
Comcast-Spectacor (comcast-spectacor.com) is the Philadelphia-based
sports and entertainment company which owns the Philadelphia Flyers
(NHL), the Philadelphia 76ers (NBA), the Philadelphia Phantoms (AHL),
the two arenas in which their teams play, the Wachovia Center and
Wachovia Spectrum, four Flyers Skate Zone community ice skating and
hockey rinks and Comcast SportsNet Philadelphia. In addition,
Comcast-Spectacor is also the principal owner of Global Spectrum, the
fastest growing firm in the public assembly management field with more
than 70 facilities throughout the United States and Canada; Ovations
Food Services, a food and beverage service provider; New Era Tickets,
a ticketing and marketing company for public assembly facilities;
Front Row Marketing Services, a commercial rights sales company; and
3601 Creative Group, a full-service in-house advertising agency. In a
partnership with Disson Skating, Comcast-Spectacor annually produces
10 nationally televised figure skating spectaculars on NBC. [Source: Lexus]