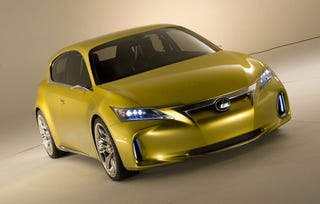 The Lexus LF-Ch hybrid concept, set for a Frankfurt Motor Show unveiling, is sporting an angry snout in this first frontal view, indicating it's ready to take on Europe's finest premium compact competitors.
The Lexus LF-CH comes complete with all the marks of a concept vehicle: hybrid drive, expensive lighting, metaloflourescent paint, hand-cut tires, tiny mirrors, and metallic trim everywhere. Underneath all that is a clear look at where the company is heading, hoping to pick up market share in Europe's competitive premium compact marketplace where the Audi A3, BMW 1-Series and Mercedes B-Class currently dominate.
While it's possible the five-door hatch will eventually be offered with a hybrid powertrain, expect an entire suite of four-cylinder diesel and petrol varieties.
Lexus LF-Ch
* Premium compact concept with Lexus Hybrid Drive
* Practical 5-door body, meeting the core needs of customers in the premium compact market
Reinforcing Lexus' position as the only manufacturer to offer a range of hybrid vehicles, the LF-Ch concept will make its world premiere the 2009 Frankfurt Motor Show.
LF-Ch combines stylish design and full hybrid technology in a practical 5-door compact package to fulfil the needs of the most demanding premium compact segment customers.
Benefiting from an electric-only driving capability, a key feature of Lexus Hybrid Drive, LF-Ch will allow for virtually silent urban driving with zero emissions.
[AutoBlog.it via World Car Fans]