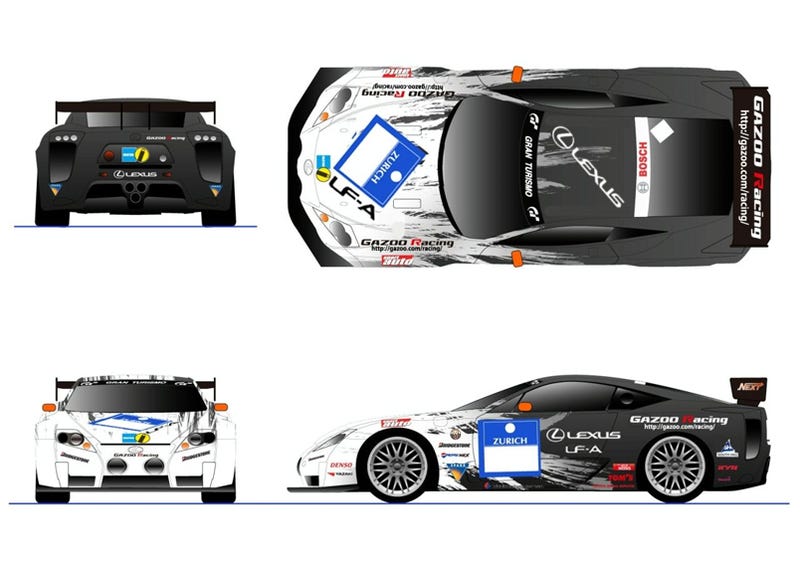 Toyota is preparing its Lexus LF-A Prototype to race, yet again, at the 24 Hours Of The Nürburgring. How much longer will Toyota tease us with this mythical beast?
Lexus is bringing the hurt with its never-going-to-be-released supposedly upcoming LF-A supercar for the ADAC Zurich 24-hour race in May. Prepped with an apparently production-ready 500 horsepower V10 and the obligatory racing equipment, the LF-A will try, this time, to not crash and burn.
It will enter the race in the Division 2 SP8, which means "engine close-to-production." Yeah, and we've got a briefcase that can turn into a flying car. Thanks for the tease, yet again, Toyota. Just give us our damn Lexus LF-A already!
'LF-A' Prototype to Again Enter 24-hour Nürburgring Race


Lexus announces plans to again enter its "LF-A" premium two-seater sports car in the 24 Hours Nürburgring1 endurance race in Nürburg, Germany, from May 21 to 24, 2009.
Based on a prototype of the LF-A being developed with an eye toward commercial release, the race vehicle, entering the Nürburg event for the second year in a row, has been equipped with race-grade safety equipment, such as a roll cage and special fuel tank, and fitted with a spoiler and other aerodynamic features. Although engine, powertrain and frame specifications differ little from those of the base vehicle, the race vehicle has been retuned to better meet the demands of the course.
Engineers intend to use feedback from the grueling race to further enhance the LF-A's performance. Also, mainly by employing young mechanics for technical support, TMC intends to use the race as an opportunity to develop human resources.
Specifications of Lexus LF-A Competing in 24 Hours Nürburgring Race
Vehicle name Lexus LF-A (racing specs)
Entry category/class Division 2 SP8 (engine close-to-production)
Team name GAZOO Racing
Engine Type V-10
Displacement 4,805 cc
Maximum output More than 367kW (500PS)
Body Length 4,530mm
Width 1,880mm
Height 1,200mm
Wheelbase 2,605mm
Material Carbon fiber reinforced polymer (CFRP)
Vehicle layout Front-mid-engine, rear-mid-transaxle, rear radiator
Transmission Paddle-shift sequential, manual
Tires Front/rear size 305/30R20
Type Racing (Bridgestone)
Outline of 24 Hours Nürburgring Race
Name 37th 24 Hours Nürburgring1
Dates May 21-24, 2009 (main competition runs from May 23-24)
Venue Nürburgring (Nürburg, Ahrweiler, State of Rhineland-Palatinate, Germany)
1Official name of this year's race is 37th ADAC Zurich 24h-Race 2009
[via Toyota]