Art cars are one of my favorite things in the whole entire world. I love 'em. It's fun to see what companies will come up with to just simply celebrate their achievements without worrying if people will buy it. It is the answer to the question "so what if Van Gogh used a car as a canvas?" and that is extremely my shit. But that does not mean that every art car is objectively Good.
Lexus is celebrating ten years of its "F" performance brand this weekend by debuting an art car during the parade laps of the 24 Hours of Spa. It's supposed to show us just what Toyota is capable of when they kick off the kid gloves and produce something both powerful and classy. I mean, they did choose to pretty up the Nürburgring-spec LFA that came with 563 horsepower, a quick-shifting transmission, and a shitload of aero. I'm just not sure they, uh, hit their marks on the livery part.
The black and white livery was designed by Portuguese artist Pedro Henriques. I like it. I also don't like it. Beauty is in the eye of the beholder, art is subjective, yes yes I understand. It's a super cool concept. I am just not sure it entirely nails the feeling of movement and constant evolution that it's supposed to suggest.
I might be struggling because the LFA is not necessarily a stellar looking car to begin with. It's a wet dream from an engineering standpoint but it definitely wasn't about to win any beauty contests. So giving it a wiggly black-and-white livery wasn't necessarily going to do it many favors. But, here's what Henriques had to say as an explanation for his work:
"My inspiration for this livery was the idea of fluidity present in the contemporary life, where things are in constant movement and it's hard to freeze anything... I wanted to reach an organic feeling by using handmade material and liquid lines in the elements spread through the car. By doing this I hope to express a feeling where the car becomes a less defined shape, in constant mutation in its movement."
G/O Media may get a commission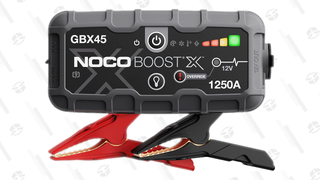 13% Off
Noco Boost X GBX75 Jump Starter
Sure. I can see that. I think. But that's why I am a journalist, not an artist.

Keep your eyes peeled for the LFA this weekend at Spa. Like I said, it's not racing—but it'll be cruising around the parade lap with the RC F GT3.