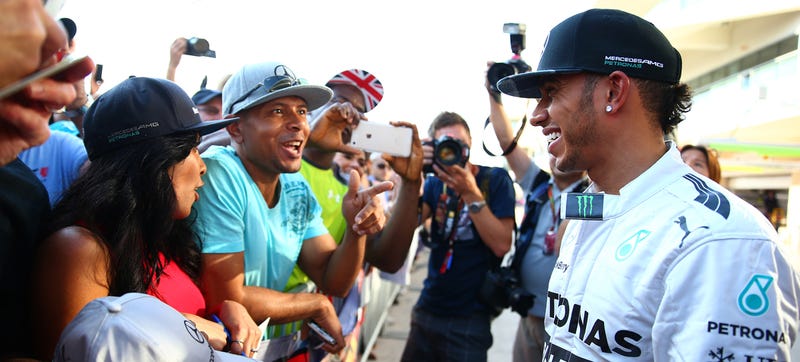 Two years ago in Austin, Lewis Hamilton took home the checkered flag at Circuit of the Americas' first-ever Formula One race. Today, driving for a different team and continuing a dominant streak he's displayed all season, Hamilton won again. But the race was full of drama, on the track and off.
The race got off to a rocky start during the very first lap when Force India's Sergio Perez crashed into Sauber's Adrian Sutil, putting both men out of the race for good. In an interview later, Sutil said Perez "came out of nowhere" and demanded an apology. We were kind of hoping for a slap-fight, but we didn't get it. Things got worse for Force India later when Nico Hulkenberg bowed out, told to park his car after losing power.
Up front, the centerpiece of the first half of the race was a dogfight between Hamilton and Mercedes teammate Nico Rosberg, who started actually started first. Little by little, Hamilton chipped away at Rosberg's lead before making an inside pass at Lap 24.
Hamilton would hold onto that lead until the end of the race, his fifth straight win and 10th overall this season. More than ever, he looks poised to secure his second world championship. And once again the Mercedes cars dominated the race, despite some problems with their front left tires going too early.
We even had some decent battles behind the two cars battling for the lead, including a good back-and-forth between up and comers Daniel Ricciardo and Valtteri Bottas.
Red Bull's Ricciardo eventually secured a third-place finish (though it was more than 20 seconds behind Hamilton), while his teammate Sebastian Vettel — forced to start from the pit lane for going through engines the way most people go through socks — had to settle for a lackluster seventh place finish. It was an extreme change from last year's U.S. Grand Prix, where a once-invincible Vettel took home the win.
It was a solid, fun race, one boosted by beautiful weather and an engaged crowd in Austin. But much of the drama was behind the scenes.
You had a smaller grid than normal after the Caterham and Marussia teams bowed out due to financial problems; persistent but ultimately false rumors that Force India, Lotus and Sauber would boycott the race to criticize how smaller teams were treated (though Force India may as well have stayed home); and F1 supremo Bernie Ecclestone admitting that the lack of parity between teams is his fault, and he doesn't know how to fix it.
No one can say F1 in Austin was boring this year.
Photo credit Getty Images