Magnus Racing, the perennial pranksters of the IMSA paddock, are back in the WeatherTech Sportscar Championship with an all-new car. So they've made another clever video for the start of the season—this time in Lego, and with appearances from various drivers as well as last year's Ballast Possum (RIP).
The team's old Porsche 911 GT America that tasted like rotten cilantro and tire chunks is out and an all new Audi R8 LMS is in. The shiny new Audi still probably tastes like rotten cilantro and tire chunks, but I blame the cleaning products used on race cars more than the car for that.

In addition to unveiling an animated brick version of their new car and poking some fun at the sleepless madness of Daytona, the team makes short work of lampooning the rest of the paddock. Everything from "Wazda" racer Liam Dwyer's one leg to the fact that the Taylor brothers often get confused with each other is fair game. Jalopnik video star and Magnus driver Andy Lally even does what Jalopnik folks do sometimes and runs into a wall.

Of course, drivers Bryan Sellers and Patrick Long are, ahem, fun sized. I think that means they should share a 944 with me in LeMons...right? Right? Team Short People? (Please?)

G/O Media may get a commission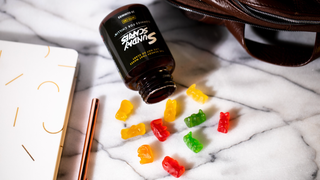 10mg CBD Gummies (22-Count)
[crickets]
There's a handy guide at the end in case you can't figure out who all the Lego figures are. One of the things I love about sportscar racing is the fact that so many of these racers are able to have fun with it and have a good laugh at themselves, so this video is absolutely the right way to start off the new season. You have to have a few screws loose to think that racing for 24 hours straight is a good idea, anyway, and that's why the the 24 Hours of Daytona is always a must-watch.

Bonus: Magnus' hilarious 24 Hours of Daytona webcast is back for this year. You will win my unending love and admiration if you can sneak a bunny onto said webcast more coherently than I did last year.
[H/T marvthegrate]

---
Contact the author at stef.schrader@jalopnik.com.