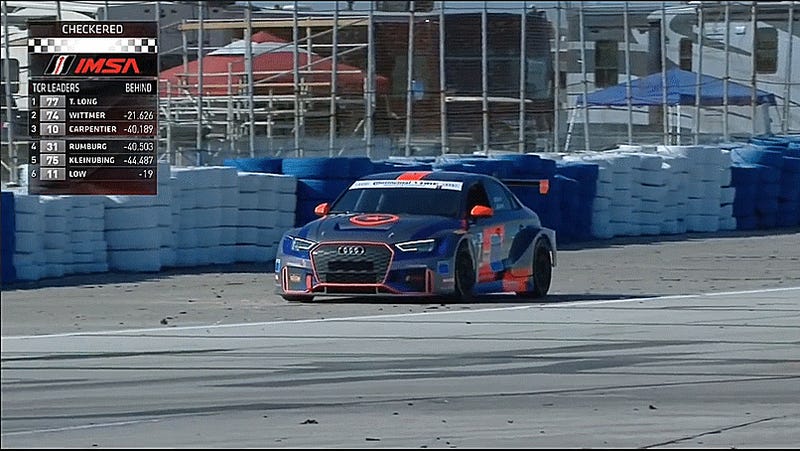 Outside of really catastrophic things that result in people getting hurt, this may be the worst way to lose an endurance race.

Compass Racing's Tom Long had buit up a sizeable lead in the TCR class during Friday's Continental Tire Sports Car Challenge race at Sebring. His No. 77 Audi RS3 LMS TCR (and you thought the Malaise Era was bad with long names) was up over 21 seconds ahead of Kuno Wittmer in Compass's No. 74 Audi as he was approaching the final few turns at Sebring.

Think of this for a second: it's Sebring, one of the most prestigious, well-known and challenging tracks on earth. Winning here is a feat. If you're Tom Long, it's within reach! Just a few more turns and you'll cruise home to victory in one of motorsports' most grueling venues.

Except he didn't. The car died on the absolute last lap, leading commentators to initially suspect he'd run out of gas, but the team later confirmed that Long had four gallons left. Through no real mistake of their own, it was a fuel pickup issue that ultimately cost the No. 77 crew the race. It's like Toyota's defective connector that failed on the last lap of Le Mans: you can do absolutely everything else right, but if a part just fails, you're done.

Cruel, but that's racing.