Porsche has settled a class action lawsuit out of court from a bunch of owners claiming they had to go and buy polarized sunglasses because the dashboard trim in their car was blinding in sunlight. Owners with the affected cars can get up to $175 in compensation. This is all hilariously insane.

I'm going to just skip over the point about people who can afford a Porsche suing over a value of $50 to $175. So anyway, the class action lawsuit was filed late last year and the recent settlement was scooped by Motor Trend:
The settlement was actually proposed in December of last year, but we didn't find out about it until just recently. It applies to owners or lessees who have or had any 2007–2016 Porsche with a Cognac, Luxor Beige, Natural Brown, Platinum Grey, or Sand Beige dashboard. If you bought sunglasses or made other modifications to your car to reduce the glare, you can get between $50 and $175 in compensation from the German automaker.

Porsche didn't initially buy the claim that the glare from the dashboard was a safety issue, but it went ahead and settled anyway just to avoid the legals costs.
So now basically any Porsche (in the U.S.) in the last nine years that didn't have a black interior gets a complimentary pair of polarized sunglasses. According to the website created for the lawsuit, you only have until September 21 for the sunglasses reimbursement. Other claims involving any other modification owners made to reduce the glare have until June 25 of next year. You obviously need some proof that you own a car and paid for the sunglasses or other fixes.
G/O Media may get a commission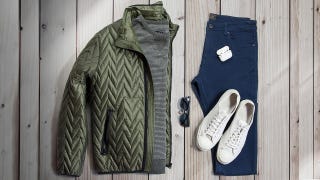 60% off
Jachs NY Fall Sale 60% Off
What's silly to me is that virtually every car from any automaker that doesn't feature a dark color trim piece under the windshield experiences this problem. It appears Porsche no longer offers brighter colors on the top of its dashboards if my playing around on Porsche's website for a few minutes is any indication, so it may not be an issue going forward.
But still. If you could afford a damn Porsche, did you not already own sunglasses? I'm a broke-as-shit college student and I found a way to afford polarized sunglasses without suing anybody. Is there a way to sue to get a free blinding Porsche?