Automotive law firm Hagens Berman has filed a class-action lawsuit against Ram Trucks parent company Fiat Chrysler and its diesel engine supplier Cummins, alleging that the companies collaborated to fraudulently under-report how much pollution heavy-duty pickup trucks were producing.
"The sheer level of fraud and concealment between Chrysler and Cummins is unconscionable, and we believe we have uncovered a deeply entrenched scheme," Steve Berman, managing partner of Hagens Berman, said in a press release. "Chrysler and Cummins spent years lying through their teeth and making empty promises to deliver the cleanest trucks on the market – lip service to deceptively dominate what they saw as a profitable market."
FCA denies any wrongdoing, and issued this official statement:
"FCA US has received notice of the filing against FCA US and Cummins Inc. of a complaint related to the emissions performance of certain Ram trucks."

"FCA US is reviewing the complaint. Based on the information available to it, FCA US does not believe that the claims brought against it are meritorious."
"FCA US will contest this lawsuit vigorously."
Cummins responded with similar, telling me over the phone that "this lawsuit has no merits," and that the company is "deeply dissapointed in this attempt to tarnish its image."
Cummins Spokesman Jon Mills went on to say that both companies in question "have been and continue to be committed to putting customers first." Mills asserted that Cummins engines comply with emissions regulations worldwide and that the company has been transparent with "governing bodies and regulators" in its practices "from design to testing to results."
Ram 2500 and 3500 pickup trucks have run Cummins engines for decades. In fact, the collaboration between these companies is often credited with raising Ram to relevance in the truck scene at the end of the 1980's.

G/O Media may get a commission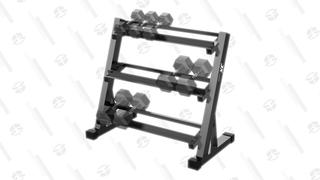 20% Off
JX Fitness Dumbbell Rack
Gains but tidy
Has a three-tier design to help store more weights more conveniently, can safely support up to 1000lbs of weight, which should be enough for most people, has a triangle base for stability, and also features anti-scratch feet which is great if you've built your own studio or workout in your garage.
Today's heavy-duty Ram trucks have run the same cast-iron, 6.7-liter six-cylinder Cummins diesel engine option since 2007. The engine has an excellent reputation for reliability and performance among enthusiasts, but produces illegally high emissions according to the lawsuit. These allegations about both FCA and Cummins are very serious, specifically asserting that both companies have committed:
"...fraudulent concealment, false advertising, and violating the Racketeer Influenced and Corrupt Organizations (RICO) Act and consumer-protection laws by intentionally misleading the public, concealing emissions levels, illegally selling noncompliant polluting vehicles, knowingly profiting from the dirty diesels and using fraudulently gained emissions credits from the Environmental Protection Agency (EPA) to use on further production of high-polluting vehicles."
Hagens Berman goes on to detail that legal limit for NOx emissions, the poisonous nitrogen oxides emitted by combustion engines, is 200 mg/mile "for stop and go driving." In a press release, the firm claims Cummins-powered Ram 2500 trucks emitted 702 mg/mile under such conditions "on average, and 2,826 mg/mile at maximum emissions." Similar results were apparently recorded under highway conditions, and neither prompted any engine fault codes that might indicate incorrect operation.
These trucks are supposed to have a catalyst system in their exhaust systems that curtails noxious emissions, but Hagens Berman alleges that the process is inadequate, and in fact prone to failure at the cost to consumers of between $3,000 and $5,000.
The Cummins trucks were supposed to be way ahead of the curve on meeting emissions requirements. So much so that the companies were able to create "carbon credits." These are basically compliance-vouchers doled out by the EPA, and if your corporation is able to get below the emissions requirement in one area or product, it can add more headroom to the limit some place else.
As you probably worked out from the strong word choice in Berman's statement, Hagens Berman thinks the companies came up short and is seeking restitution for every 2007–present Cummins Ram owner with today's class action suit: Bledsoe v. FCA USA LLC, 16-cv-14024, U.S. District Court, Eastern District of Michigan (Detroit).
In addition to FCA we've reached out to Cummins and the EPA for statements and will update when we hear from them. The more than 700-page lawsuit is below: