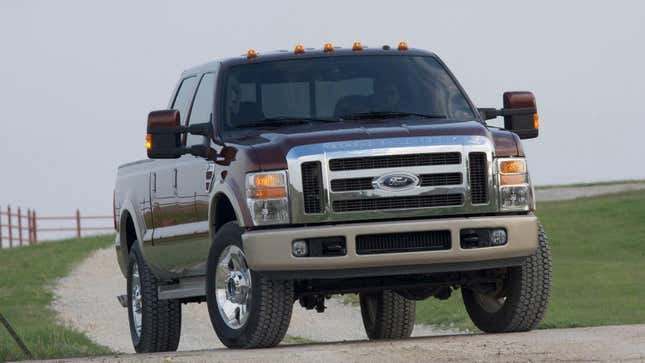 A fraud suit against an Indiana Nissan dealership is moving forward, according to Automotive News, in a case involving a dealership that allegedly lied to a customer about a used Ford F-250 having a warranty.
According to the complaint, L.T. Garrett contacted Lafayette Nissan in Lafayette, Indiana, about a 2008 Ford F-250 in April 2018. The salesperson he talked to informed Garrett that the F-250 had had its engine replaced and that this replacement engine was covered by a warranty, "issued by the engine manufacturer (Jasper Engines) and good for two years."
When Garrett went to the dealer the following day to check out the truck, someone else allegedly repeated the same thing the salesperson said the day before: the truck had a warranty on the engine replacement. Unbeknownst to Garrett, the warranty on the engine had actually expired, according to the lawsuit. The dealer denies the second interaction with one of their people ever happening.

According to the complaint, as proof of everything, Garett was shown an invoice for the engine replacement and a pamphlet that they said was the engine's warranty; the pamphlet was actually a "a blank warranty brochure" which had not been completed and did not indicate that the engine was under warranty." But believing the dealership and finding comfort in the fact that the truck had a warranty, Garrett bought the truck. Over a year later the engine failed. When he attempted to get the truck repaired under the warranty, he learned that there actually wasn't coverage on the truck. So he tried to get Lafayette Nissan to pay for the repairs; they refused
Garett filed a fraud complaint in late November 2019. By mid-August 2022, a lower cut had ruled in favor of the dealership. The court said that it wasn't "reasonable" that Garett took the word of the salesperson about the warranty without looking over the documents provided for the truck; he was given documents on everything from when the engine was installed to a blank warranty document about the warranty. "It's unclear whether Garrett even read the document before purchasing the F-250, but he did have a full day to review it and inquire about it, if he had so chosen," the judgment reads.
Now the suit is moving forward after an appeals court reversed the judgement.

...in an Aug. 11 opinion, the Court of Appeals said it will be up to a jury to determine whether Garrett was told verbally that the engine was under warranty and, if so, whether it was reasonable for him to rely on such a statement in opting to buy the F-250.
A lawyer for the dealership says more discovery will be needed before the suit heads to trial.