Not long after something happened in the hot, violent, drugged-out summer of 2002 that made me get hooked on cars, I began taking photos of them.
They were generally terrible. Over the years, I've observed, learned, practiced, practiced, observed and practiced some more to end up with a handful of photos I would not call great but at least they're not obviously terrible and they come with stories.
Here they are, a gallery of a dozen.
Ferrari 250 Europa
In April 2007, my friend Larry Parker and I drove from Budapest to Lake Como to attend the Concorso d'Eleganza Villa d'Este. It was a lovely drive in Larry's Peugeot 406 Coupé across the Alps and we arrived to see a classic car beauty pageant of such mind-bending intensity it left me in a semi-catatonic state for days.
At the time, I was writing and editing Belsőség, a Hungarian car blog not entirely dissimilar to the early, Spinelli-era Jalopnik. The total overdose of wonderful cars at Lake Como left the blog in a rather sorry state for a few days until, awake for something like 50 hours, whatever happens in my brain when I write happened and I wrote "An Event Horizon of the Automotive Variety", which is still one of my favorite articles.
I took many photos at the Concorso that year but this has always been my favorite. It's a relatively obscure 1953 version of the protean Ferrari 250, painted a very British shade of green, and accompanied by a pair of the most disinterested Italian dudes I've ever seen.
G/O Media may get a commission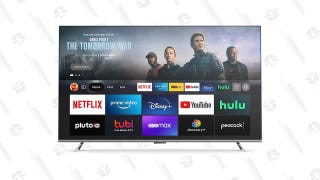 Save 46%
Fire TV 55" Omni Series 4K UHD Smart TV
Porsche Carrera GT
In March 2006, six months after I started writing about cars for a living, IBM flew me to Dubai to show me a system for policing traffic they'd developed for use in the Emirates. The system was pretty creepy, as you'd expect an IBM-developed traffic police system in a country which is rather medieval beneath the glittery surface, but I had a side project to cheer me up. Before I flew to Dubai, I'd emailed Mike Spinelli—who I hadn't known back then but I'd read a post he'd written about Dubai drag racing for Wired—and he'd put me in touch with a Bosnian guy named Zlatko, who worked for a local car magazine. Following Zlatko's directions, I excused myself from an IBM-paid corporate lunch, hailed a cab and had myself driven to the Dubai Autodrome.
A frightening hour followed. The Autodrome turned out to be entirely abandoned and in the middle of the desert. My phone was dead. It was late March, slightly above 90 °F, no shade, and of course I had no water. I spent the next hour wandering around a perimeter fence, then, just after I was ready to do whatever people in the desert do when they're completely dehydrated and slightly delirious from the heat and the glare, I rounded a corner and came upon a surreal cornucopia of supercars. Zlatko was there, too. He's a great guy.
The event turned out to be the first public track day at the Autodrome and people were having fun lapping the circuit in cars ranging from a midget racer with a motorcycle engine to an Ariel Atom and various souped-up 911's. But the star of the evening was undoubtedly this yellow Carrera GT, driven over from Muscat for the day. It was the first and only time I heard it at full throttle. Out there in the desert, parched and delirious and completely high on supercars, it sounded like God's dentist drill piercing the terrible blue sky.
When people were getting ready to leave, I took this photo of the cooling Carrera on the tarmac, set against a traffic jam of trucks carrying, undoubtedly, the underpaid South Asian laborers who've built these weird cities in the Gulf. Later, a Russian boy named Stas showed me what it's like to do 150 MPH in his red Honda Civic Type–R while looking at local Arab kids making tea on the dunes and riding white Toyota SUV's in the sand.
I've yet to read Seven Pillars of Wisdom.
2007 24 Hours of Le Mans
I'd long been interested in the 24 hour race and 2007 was the year I finally got a chance to go, arriving in Le Mans after a grand and very boring 1,100-mile drive from Budapest. I took this photo above Tertre Rouge corner at precisely the halfway point of the race, at 3 AM on Sunday. I'd been straight awake for something approaching 72 hours and I wouldn't go to bed—if you can call the rear seat of a Citroën C4 Picasso a bed—for another 14 or so. In the long, cold hours that remained before the late Sarthe sunrise, I would have proper visual hallucinations.
This has always been my favorite photo of Le Mans, which is one of the most visceral and life-changing experiences I've ever had. The relentless push for an unimaginably far-off finish. The alien, discordant landscape. The constant noise which makes you forget about a world with no constant noise. The people who stay awake all night, living in a dark world with nothing but the noise and the harsh searchlights of racing cars to keep them company.
Five years on, my experience at Le Mans remains how I've always pictured the Hajj. To go somewhere far-away, familiar and strange at the same time, with masses of strangers, the only connection to them the common belief that racing cars is glorious. To deprive the body of food and drink, to deprive the senses of everyday stimuli and overload them with something beautiful and alien, to experience a rapture of sorts.
Le Mans is not fun. It's a transformation of whoever you are into something else. If you'll ever go, stay awake. Weird shit will happen.
Jason Castriota and the Bertone Mantide
In 2009, freshly hired by Jalopnik, I returned to Lake Como, this time with my future wife Natalie Polgar. We drove across Southern Austria this time and arrived just in time for the show to begin on Saturday morning.
We met a very cool guy in colorful skateboard shoes named Bradley Farrell, the Ferrari-owning lover of goats, who introduced us to Jason Castriota, who'd recently left Pininfarina for Bertone and came to Lake Como to show off his first concept car for Bertone, the Corvette-powered Mantide. Castriota is my favorite contemporary car designer and meeting him was a pleasant exception to the rule that you should never meet your heroes.
Later in the day, he drove his Mantide up to the hotel so the panel of judges could evaluate it. I gave him a smile and a wave. Sitting deep in his car, focused on the task ahead, the big V8 rumbling away, he smiled back then turned to face the short stretch of road ahead. This is when I took his photo, a serious man in a cocoon of red curves of his own design.
1939 Lancia Aprilia
This is from the same 2009 Concorso. I'd been experimenting with taking tracking shots with my manual focus Leica, which requires a lot of planning, a lot of practice and a lot of luck. It's a ridiculously old-school way to take photos but when everything comes together it gives a satisfaction I find unattainable when I leave such a vital part of photography as setting focus to an algorithm.
Then this guys drove up on an access road, presumably with his kid, and I, completely unprepared, picked up my camera and shot. This is the photo I got, a picture which somehow managed to capture the fun and the sheer exhilaration of driving a small race car on a sunny spring day in Italy.
Lamborghini Miura
I've spent the best past of the past decade thinking in various ways about how the Lamborghini Miura is not only the greatest car ever built but one of the most perfect examples of human expression.
On a rational level, the Miura is a deeply flawed and entirely pointless Italian sports car built almost fifty years ago. But dig a little deeper—I certainly have—and you'll find this: the Miura is all about creating beautiful things for the hell of it and not asking anybody for permission.
It is perhaps not a coincidence that in the same year Ferruccio Lamborghini's rag-tag group of twenty-something tinkerers built the ultimate automotive fuck-you, a group of 19-year-old kids half a world away invented punk rock. They were the Saicos from Lima, Peru, and stop reading now and listen to "Demolición".
This is my favorite picture I've ever taken, not only of cars but of everything else, and it's also from the 2009 Concorso. A group of people were looking at a red Miura with its doors open, among them a lady of perhaps 70, dressed in a beautiful herringbone skirt suit, holding a tiny, wooden Chanel suitcase.
I took this picture. It took three tries to nail it. The lady was unaware. I don't know why it's my favorite. I don't know why punk rock is the greatest thing. It just is. It just is.
Ferrari Breadvan
In July 2009, I flew to London, took a train to somewhere in South-East England, took a bus to Chichester, slept three hours on a bench while seagulls circled overhead, then walked five miles to see the Goodwood Festival of Speed.
Speed is a little too much to take in if you intend to consume its every second and this is perhaps why my coverage of the event for Jalopnik was so terrible. Sorry!
In Goodwood, what happened was that I saw the Ferrari Breadvan, a car even more punk rock than the Lamborghini Miura. I saw it scream up the hill, its murderous V12 the loudest, most violent sound I remember from that day. I took a photo. There was, I think, a lawn chair folded up and stowed in the rear.
Goodwood, bloody hell.
Natalie in a Lamborghini Miura
You didn't think you were going to escape this gallery without another kooky photo of a Miura, did you?
Natalie and I spent August 2009 in New York and the Monday after we'd arrived, we hooked up with Vanity Fair's Brett Berk to see a Miura. The car was owned by a dealership on Long Island and Brett drove us out there in a blue Dodge Challenger, which is a terrible car. The Challenger, not the Miura.
This was the first and only time I'd get to sit in a Miura and I realized not without a hint of sadness that it was a rather tight fit for my lanky 6'2" frame, especially when it came to headroom. Then Natalie got in. She's 5'6" and she pronounced it the best driver's seat she'd ever sat in. For some time in her wild youth, her daily driver was a Lancia Delta HF Integrale. She knows her Italian cars.
Life lesson? If you ever see a pretty girl comfortable in the driver's seat of a Miura, marry her. I know I did. All I'll need to figure out now is how to become fabulously wealthy so I can buy one for her and have her drive me around in it at the crazy speeds she prefers when she's in the mood.
Detroit dude
Later that August, John Krewson—The Onion's sports editor who spent a few weeks that summer and early fall writing for Jalopnik—and I drove to Detroit to report from the Woodward Dream Cruise. After looking at American cars all day, going up and down at 5 MPH in the hot sun, we went downtown with local boy Ben Wojdyla, who was Jalopnik's Detroit correspondent at the time.
Ben reassured me that downtown Detroit was pretty safe and that not only would my life not end in five minutes courtesy of a gang of murderous thugs high on crack cocaine I could actually wander about with my expensive-looking German camera and take photographs. This I did.
It was pretty dark in downtown Detroit. Ambling about after a fabulous Midwestern meal which may have contained trans fats, I focused my camera to about 10 feet and set the aperture as wide as it would go. This guy came cruising down the street. Operating entirely on autopilot, I shot him in his big bling automobile.
Only much later that day did I see that I'd managed to take a photo which is almost stereotypically Detroit and that the guy's face is in perfect focus. He's looking straight at me and he's not happy. Not happy at all.
I have very fond memories of Detroit.
Ariel Atom
John Krewson and I concluded our August adventures with a trip to Lime Rock Park. The way there was hilariously disastrous.
I got up at 4 AM in Brooklyn, took the subway to the Classic Car Club of Manhattan's magical clubhouse on Hudson Street, where I met Krewson. The club, who were organizing an Ariel Atom track day up in Lime Rock, gave us a late '90s black Mercedes–Benz E55 AMG wagon to drive up there. It was the most ridiculous drug dealer vehicle I'd ever been in. Krewson wondered about the number of strippers' footprints we could uncover on the headliner given proper forensic tools. Krewson is very funny.
Then we got a puncture on the Cross Bronx Expressway. It was something like 7:30 AM. After weeks of sunny 100-degree days, August 29 greeted us with 50-something degrees and torrential rain. Krewson parked the E55 in the breakdown lane. We got out to change the wheel. The rain was heavy and cold. We had no rain gear. While we were looking at the damage, an electric glitch lowered all the windows. The sunroof, too. This took us a while to notice. It's pretty loud out on the Cross Bronx and we were busy looking at the massive, deflated tire. By the time we looked up, the interior was swimming. It was ridiculous. Krewson found the button on the fob to roll up the windows. We retrieved the jack from the trunk. The jack was a cheap aftermarket jack. It crunched up like a Coke can when subjected to the two-ton heft of the Benz. By this point, we were laughing like madmen. We got in the car. We made ourselves comfortable in the cold, soaking seats. We called for backup. Backup arrived in the form of a giant pickup truck towing a giant trailer, driven by a young man from the car club. He shooed us into the pickup's cab, winched the stricken Benz into the trailer, then drove our entire sorry team to Lime Rock.
What a fun day! At Lime Rock Park, which is just about the most beautiful little circuit I've ever been to, Ariel's test driver gave us hot laps on a drying track. Sitting inside an Atom driven by a professional is just about the most fun you can have in an automobile if you're a shitty driver like I am.
After I'd had my fun with a helmet on, a local photographer took me to a wonderful spot in the trees and I took this photo of the Atom. By the time we were ready to leave, the Classic Car Club of Manhattan's mystery man had fixed our Benz and we rolled home to New York City down the Taconic in perfect pimp style.
What a day, what a day. I like the picture, too.
Pagani Zonda Cinque
There are days when its baroque styling feels a bit too much but the Pagani Zonda is the modern supercar which best captures the Miura's fuck you ethos. There's nothing quite like it. I'm doubly impressed by the meticulous way Horacio Pagani built his company. Also, the sheer madness of the special edition Zondas. Like the Cinque. Which is, like, race car.
I took this photo of #3 of the five Cinques made on an evening at the 2010 Geneva Motor Show, where my friend and Jalopnik's then-intern Máté Petrány had spent a day photographing cars and writing about them. Rather exhausted, we sat ourselves down on the edge of the Cinque's rotating platform and I looked at it for a while. The perfect weave of the carbon fiber. The gorgeous red stripe running down the middle. The sheer audacity of that air intake, taken from a 1975 Formula One car. I pressed the shutter. This, for me, is the Zonda. A Miura for the modern man.
Honda NSX Concept
Taking photos of cars on the press days of motor shows can be rather frustrating. The challenge is to take photos of cars and not of guys in gray sport coats with badges and laptop bags hanging off their shoulders. This is not aided by the massive crowds. This is also not aided by the terrible lightning. What you do is compose your shot and wait for the half-second window when nobody is in the frame.
It's boring but easy when the cars are standing still. When they're put on a rotating platform, syncing a pleasing composition with a people-free window can be downright impossible. I was looking at the throngs of photographers at Honda's booth at the 2012 Geneva Motor Show surrounding the just-unveiled NSX on a rotating platform, thinking about all this, when a thought occurred to me: Why not put the camera on a pocket tripod, set it up on the rotating platform, focus it, use a wide-angle lens with the smallest aperture, and fire the shutter with my silly Hong Kong remote control which looks like the trigger of a cheesy TV show bomb?
Which is just what I did to get this photo, my favorite from Geneva. It's not your classic hero shot but it's also unlike any of the three hundred identical photos everyone else took. Which is a compromise I'm more than happy to live with.
As you can see in all these photos, I'm not a natural-born photo genius. But car photography is something you can study and get better at. I've tried to follow three simple rules. Perhaps they will work for you, too, if you'd like to take photos of cars.
Find natural-born photo geniuses whose work you can relate to and look at their photos. Study them. Think about them. Try to emulate them. My car photography heroes are Richard Morris and Balázs Fenyő.
Get a camera you love. It doesn't have to be very expensive or very high-end but it should allow you to control as many of the variables as possible. Also, you should feel like it's yours. My camera is a Leica Digilux 2.
Go to interesting places. Find interesting cars. Try to take interesting photos of them. Think about the photos you're taking. Then think about them some more. Sometimes this will work out. Sometimes, not so much. It's cool. Snap away.