The retro bug has officially hit overseas (travelers, take your vitamins). Thanks to our Euro connection at Eurocar Blog we've got the inside dope on the pending unveiling of the long-rumored Lamborghini Miura concept (yes folks, this is the real one). Set to appear at the Detroit show in a few days, the concept is the work of Walter de Silva — Audi's berdesigner who recently took over at Lambo for departing Luc Donckerwolke (who left for a seat at Seat) — in celebration of the 40th anniversary of the original Miura's premiere at the 1966 Geneva motor show. Click for more pics.
Related:
Perhaps the Most Beautiful Car Ever Built: The Lamborghini Miura SVJ; Lamborghini Miura Celebrates 40th Anniversary; Lamborghini (Still) Considering New Models; Audi Design Boss de Silva Now Responsible for Lambo, Too; Lamborghini Clarifies New Product Gossip [internal]
G/O Media may get a commission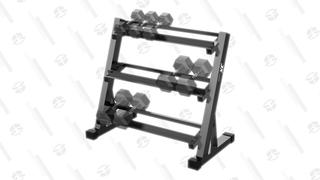 20% Off
JX Fitness Dumbbell Rack
Gains but tidy
Has a three-tier design to help store more weights more conveniently, can safely support up to 1000lbs of weight, which should be enough for most people, has a triangle base for stability, and also features anti-scratch feet which is great if you've built your own studio or workout in your garage.