This is the Morning Shift, our one-stop daily roundup of all the auto news that's actually important — all in one place at 9:00 AM. Or, you could spend all day waiting for other sites to parcel it out to you one story at a time. Isn't your time more important?
---
1st Gear: Engineer Told Google Of Plans To Scoop Data With Street View Cars
A Google engineer told others at the search engine giant about his plan to scoop up personal information from wireless-network users as Google Street View cars drove by their homes, but the practice continued for two years after the internal disclosures, a Federal Communications Commission investigation found. The engineer explained his plans to other engineers and at least one senior manager involved with the project in 2008, the FCC report states. This despite initial claims that Google employees didn't know the Street View cars were collecting personal information from wireless-network users. Do no harm? Sure, unless it's potentially profitable!
---
G/O Media may get a commission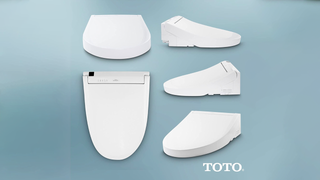 44% off
Toto Washlet Electronic Bidet Toilet Seat
2nd Gear: The "Secret" Road Tax On Your Car
Bloomberg notes this morning of a "secret" road tax — the cost of bad roads on your car. Here's the setup: The gasoline tax that supports the U.S. Highway Trust Fund, which helps pay for road and transit projects in Washington and all 50 states, hasn't been raised in 19 years, and with the cost of materials such as steel and asphalt on the rise, the fund is expected to have a deficit of about $10 billion this year. Car owners already are shelling out far more than that to repair damage done to their vehicles by America's ruined streets and highways, industry and academic researchers say. Motorists pay $67 billion annually for increased fuel consumption, body dents, worn tires and premature wear wrought by pitted roads, according to The Road Information Program (TRIP), a Washington-based research group. That works out to $324 per licensed driver, says Frank Moretti, TRIP's director of policy and research. Of course the group is funded by road construction company interests, we don't for a second doubt the validity of the claim. We need to spend more on roads. Period.
---
3rd Gear: GM To Sell Chevy Corvette In South Korea
Bloomberg tells us this morning that General Motors, the world's biggest and baddest automaker, will begin selling the Chevrolet Corvette sports car in South Korea next month as the U.S. company seeks to expand sales in overseas markets. The Corvette Coupe, equipped with a eight-cylinder engine delivering 430 horsepower, will go on sale May 4 starting at 86.4 million won ($76,300), GM's South Korean unit said in an e-mailed statement today. That's more than 50 percent higher than the car's sticker price in the U.S. But whatever, at least the land that brought us the Chevy Sonic and the Cruze is finally getting a Corvette not owned by the U.S. Navy.
---
4th Gear: This Is A Story Of A Huracán
Car & Driver notes that just months after filing trademarks for Urus (the name for its SUV concept) and Deimos (still no word on what that'll be used for), Lamborghini has added Huracán to its portfolio of pending applications. Huracán is Spanish for "hurricane." And, unlike some automakers, Lamborghini doesn't file trademark applications just because they feel like it. With no exceptions we've seen to the rule — the company almost always puts 'em to work, even if just for a concept car.
---
5th Gear: VW Gets New R Line Trim On Polo
Volkswagen has added a new R Line trim to the Volkswagen Polo lineup in the land of Europe. Based on the current 'Match' spec Polo, R Line cars add deeper front and rear bumpers, a black gloss radiator grille and deeper side sills. New toys also includes 16-inch alloys and rear tinted glass. Standard interior equipment comprises a six speaker stereo with iPod connectivity, sports seats, air conditioning, electric windows and electric, heated door mirrors. The car's front grille, seats, steering wheel and aluminium scuff plates all carry R Line badging. The Polo R Line can already be ordered now in the UK. No word yet on whether we'll get it here. But since there won't be a performance bump, do we really care?
---
6th Gear: Truth In 24 II: The Search For More Marketing
Audi's released the trailer for the sequel to the Truth in 24 documentary. The new flick's called Truth in 24 II: The Legend Of Curly's Gold Truth In 24 II: Every Second Counts and it's a look at the 2011 Le Mans — a race that saw a lone Audi R18 fend off the French to win the race. Since then, Peugeot's pulled out of Le Mans. That'll certainly make this year's race a bit less interesting, won't it?
---
Reverse:
Dan Gilbert's Building Rebrand-O-Matic Claims Another Victim: Detroit's Dime Building Now Called "Chrysler House." [Curbed Detroit]
Dan Knott, respected former Chrysler purchasing chief, dies. [Detroit Free Press]
Bronx Zoo SUV Crash Kills 3 Generations of a Family. [Fox News]
The Viper: It's a car, it's a halo ... it's a lifeboat. [Automotive News]
When It Rains, It Pours. [PickupTrucks.com]
Before Flying Car Can Take Off, There's a Checklist. [New York Times]
Mercedes may regain No. 2 premium sales position from Audi by 2015, report says. [Automotive News]
Lamborghini Aventador J promo clip released. [World Car Fans]
Renault teases fourth-generation Clio. [Left Lane News]
---
Today in Automotive History
The Land Rover, a British-made all-terrain vehicle that will earn a reputation for its use in exotic locales, debuts at an auto show in Amsterdam on April 30, 1948. [History]
Show us your tips!
Got tips for our editors? Want to anonymously dish some dirt on a competitor? Know something about a secret car? Email us at tips@jalopnik.com.
Lost in our new layout?
Click here for the Opposite Lock or Tips forums. Want a more "blog-like" look? Click the button up top next to "Top Stories."
Get more Jalopnik!
Want even more Jalopnik? Want to know which of your friends read us? "Like" us on Facebook and follow us on Twitter.