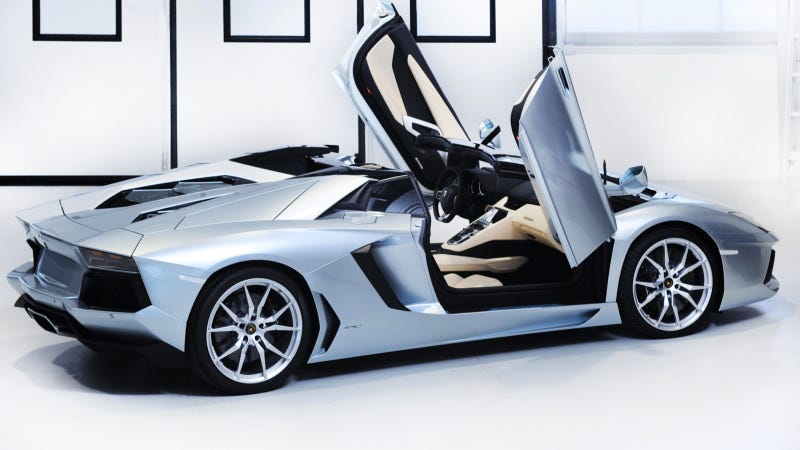 Take the Lamborghini Aventador, remove the roof, add some hexagonal vents and windows, and you've got the 700-hp Lamborghini Aventador LP700-4 Roadster. If the Ferrari California is a "Shitbox soft top for softcocks" the new Aventador is precisely the opposite.
As with past Lamborghini roadsters, there's so little roof surface area compared to the massive plane of engine cover behind the cockpit they've substituted a removable carbon fiber two-piece roof instead of the de rigueur folding hard-top.
While attractive, the new Aventador is surprisingly refined for a Lamborghini product. In this sense, the Roadster distinguishes itself with more aggressive details. The cockpit features glass black paint, giving the vehicle a new two-tone aesthetic.
The louvered rear window vents have been replaced with two spines of hexagonal windows. Beneath, the 700-hp V12 is exhibited like a precious artifact in darkly-tinted glass.
All of this style does come at a price. We're told the Aventador now hits 62 mph in a tedious 3.0 seconds, compared to 2.9 seconds for the coupe. Oh the agony! The Long Island divorce attorney types who buy this will definitely be able to notice the tenth of a second on the way to the 217 MPH top speed.
Oh, and then there's the actual price: 300,000 Euros. That's about $381,000, but we often benefit from no VAT and end up with a price lower. Here's hoping you can score one with an MSRP closer to $350,000 you then option out and pay $400,000 for.