Police officials in Beverly Hills investigating the LaFerrari and Porsche 911 GT3 drivers who tore through a neighborhood at excessive speeds say that the parties involved do not have actually have diplomatic immunity like they claimed.
The problem is, they appear to have skipped town, Beverly Hills Police Department Lt. Lincoln Hoshino told Jalopnik. Hoshino said the rented house where the drivers retreated to — with their yellow LaFerrari smoking — has been cleared out.

In addition, while the now-viral video clearly shows the cars driving recklessly, police have not identified exactly who was driving them, Hoshino said. He added that while police know the owners of the car — information they aren't sharing — the drivers remain unknown. (The car is said to be from Qatar, and its drivers reportedly linked to the Qatari royal family.)
"Our officers weren't there to observe the violations," Hoshino said. Had they been present, the drivers could have been arrested, especially since U.S. State Department officials confirmed they do not have any sort of diplomatic immunity. "But we don't know who was driving the car."
And under California law, charges can't proceed until that happens.
Over the weekend the drivers were seen blasting through the neighborhood in the high-end cars — the LaFerrari is valued at $1.5 million — and later someone at the house told an NBC Los Angeles freelance video reporter they had diplomatic immunity and "could have [him[ killed and get away with it," according to their story.
G/O Media may get a commission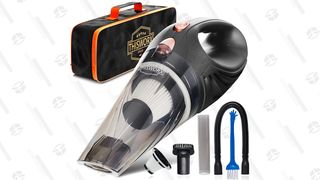 Save 50%
ThisWorx Car Vacuum Cleaner
Hoshino said police aren't sure if the involved parties are still in Beverly Hills or not. Still, he was swift in his condemnation of a video that has outraged millions of people.
"The driving they're involved in is atrocious," he said. "They're putting everyone's lives in danger driving like that."
Where the case goes from here remains to be seen.
---
Contact the author at patrick@jalopnik.com.