YOKOHAMA, Japan – Fuji Speedway faced inclement weather earlier this month that impacted the World Endurance Championship, but the rains couldn't keep the Nissan ZEOD RC from making another test run with former GT1 Champion Michael Krumm at the wheel.
The team developing the Zero Emission on Demand RC is using the track experience to further modify and upgrade the car before next year's Le Mans "Garage 56" appearance.
In part two of an interview with Krumm, Nissan Executive Vice President Andy Palmer sat down at Fuji with the German driver to discuss the ZEOD's handling and performance and what's ahead on the road to France.
Andy Palmer: Normally when you are driving a racing line, you are looking for your apexes. But in this car you're obviously looking at your front wheels. What does that do to the rear wheels? They should be much heavier on the curves. Is that a good thing or a bad thing?
G/O Media may get a commission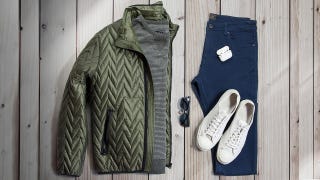 60% off
Jachs NY Fall Sale 60% Off
Michael Krumm: That's a very good question. What I realized is with the narrow front that the body drives to the front wheel. So, as you said, you put your eyes on the apex or breaking point and try to look far ahead, and whatever you do your body just wants to drive there.
Of course, now you have a wider rear and we can hit the curves, but actually it does not matter a lot. It does matter on the exits – we have to be careful not to run onto the grass, but the most important part is the braking and the turning on the apex, and you want to be as close as you can. But because all the weight is in the rear, it absorbs all the curves beautifully. It's absolutely stable.
The problem is when you hit the curve with your front. That's a different issue, and every car reacts different to it. There is a much, much bigger impact on the lap time, on the handling.
Palmer: Do you check your style, for example, turning in later because the car will turn in quicker? Does it affect the way you drive faster?
Krumm: Yes, the driving style with this type of weight distribution is a little bit different. We can make a different use of it. For example, we can go early on the power. We have very little under-steer coming in, so we can kind of change a little bit the driving style. So, we can kind of change and adjust the driving style to go faster and faster.
Palmer: Looking forward to Le Mans?
Krumm: If you give me a job to drive (laughs). Honestly, if I drive or not (at Le Mans), it's absolutely super-exciting to see – even to watch the car. I can't really wait to see it break 300 kph, and it's electric power. With this technology, it's really exciting times.
Source: Nissan