Awww, isn't this tiny, four-cylinder copy of the Corvette LS7.R's architecture cute? The 1,645cc V4 is destined for a new American performance bike, but only weighing 130lbs, it could be near ideal for engine swaps or kit cars.
This V4 literally is half an LS7.R, just downsized. Dubbed the KMV4, it's being produced on the same assembly line as that 'Vette race motor by Detroit's Katech Engines. Like the 7.0-liter V8 that powered the Corvette GT1 to Le Mans victory, this V4 has a 90° V, is made from aluminum and uses nickel-silicon-carbide-coated linerless bores. There's two pushrod valves per-cylinder, a chain-driven single cam mounted in the valley between cylinders and hydraulic valve lifters. Where the production LS7 puts out 505 HP and 470 Lb-Ft, the KMV4 makes 120 LB-FT at 4,500 RPM (exceptionally low for a bike engine) and 140 HP at 7,800 RPM.

This picture shows the KMV4 block next to that of an LS7.R.
The bike it's going in is called the Motus MST-01 (Katech + Motus + V4 = KMV4), which is entering the final stages of running prototype assembly at its Birmingham, Alabama factory. Intended to be a sort of real-world sportbike or a "sport tourer" in the two-wheeled parlance, the MST-01 is targeted to be all-day comfortable for real humans without sacrificing performance. The LS-motor architecture is a big part of that, giving Motus a huge spread of usable torque to counter the typical sky-high revs of most performance motorcycles. Of course, other LS-motor benefits apply too, there's no need for valve adjustments and the motor remains incredibly simple and easy to work on. It's weight is also on par with much smaller engines, despite nearly doubling the typical motorcycle capacity.
Race Engine Technology magazine has been incredibly impressed with the project, speculating that such architecture could form an ideal basis for a Formula One engine when that series downgrades from 2.4-liter V8s to turbo-supercharged four-cylinders and that, also equipped with forced-induction, the KMV4 could for the perfect 300 HP engine for the next-generation Delta Wing Racer Indy Car.
G/O Media may get a commission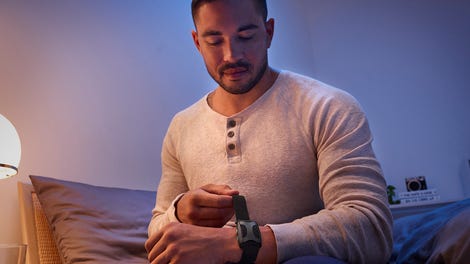 Mounted transversely in the MST-01, the KMV4 provides the bike with a unique muscle car-like visual identity with the head and exhausts poking out of the body work and is also shorter and more rigid than a comparable inline-four, allowing Motus to spec a relatively short wheelbase and make the engine a stressed-member of the chassis. Even mounted sideways like this, the 1,645cc V4 is narrower than the new 1,649cc inline-six in the new BMW K1600GT by four inches.
The MST-01 prototypes should be completed by the end of the year and will embark on a nation-wide test program in the new year. Look for a the LS7.R's mini-me on a road near you some time next year.
[Motus via Hell For Leather]