Ferrari Formula One mechanic Francesco Cigorini has been hospitalized with a broken leg. The injury comes as a result of driver Kimi Räikkönen running over his left leg on pit stop release. The Finnish driver is not to blame for the incident, as drivers are told to go as soon as they are released. Warning: the video is graphic. 
This is simply an incident that comes as a result of F1 pit stops getting ever quicker. Accidents happen, but they're never easy to watch. Luckily, because helmets are mandated, the mechanic was not injured further when he fell to the ground.
The incident stems from the fact that the worn right rear tire on Kimi's Ferrari was never removed from the car. You can see the tire changer attempting to get the wheel nut off, but perhaps because of a failure or a stuck nut, the wheel is never pulled off. In trying to be the fastest, the tire man has to hold the wheel up and slam it onto the hub once the old tire is removed. Cigorini's stance had his leg in front of the rear tire. Once the car was dropped from its jacks and released, his leg was right in the path of danger.
G/O Media may get a commission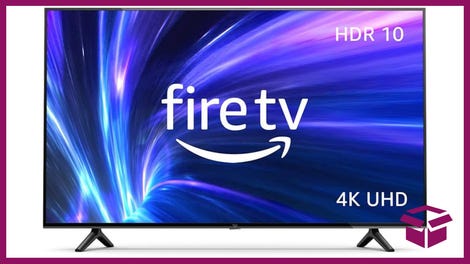 42% Off
Amazon Fire TV 50" 4K Smart TV
Because of the unsafe release and the loose rear wheel, the car was stopped on pit lane and retired immediately. The Ferrari driver threw his steering wheel in disgust as he stepped from the car and walked away.
The team has stated that the injuries are limited to a broken tibia and fibula, which will require quite a lengthy recovery. Despite Ferrari winning the Grand Prix, victor Sebastian Vettel called Sunday a "mixed feeling day." Kimi himself was slammed for being somewhat emotionless about the news.