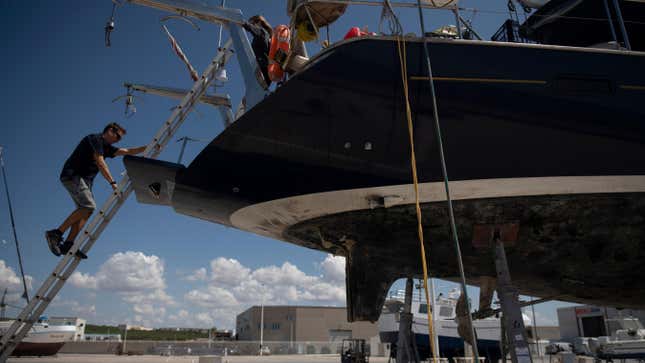 A sailor is currently stranded on the island of Gibraltar after a pod of five orcas attacked his yacht, disabling both rudders and treating the disabled boat like a plaything in the water. The attack is the most recent in a string of incidents with no clear cause.
British sailor Iain Hamilton told BBC 4 about the attack 20 miles west off the coast of the British territory. He said a pod of five animals began ramming into the boat. From Insider:
"There was a very large whale pushing along the back of the boat, trying to bite the rudder," he told BBC Radio 4, adding that the big orca, along with four smaller killer whales, repeatedly bumped against the yacht.


"Then one of them managed to take off the rudder," he said.

Hamilton said it was "quite concerning" to be left with only one rudder, but the situation turned from bad to worse when the second rudder was torn off.

"We had no mechanism for steering the boat," he said. Hamilton added that the orcas "pushed us around like a rag doll."

The sailor told Radio 4 that he felt as though the orcas were being "almost playful" rather than aggressive, adding that they would have had the strength to destroy his yacht quickly if they wished to.
Experts are not sure what is causing orcas to attack yachts, however its theorized that an older orca, dubbed White Gladis by researchers, was traumatized by illegal fishing vessels and is now teaching younger orcas to attack the ships around the Iberian Peninsula. Some ships have been merely disabled, but the orcas have managed to sink a few. There have been at least 200 interactions on yachts in the waters surrounding Spain, Portugal and Morocco since 2020. Though these interactions aren't necessarily attacks, they do speak to an increasing curiosity of orcas around sailing vessels.