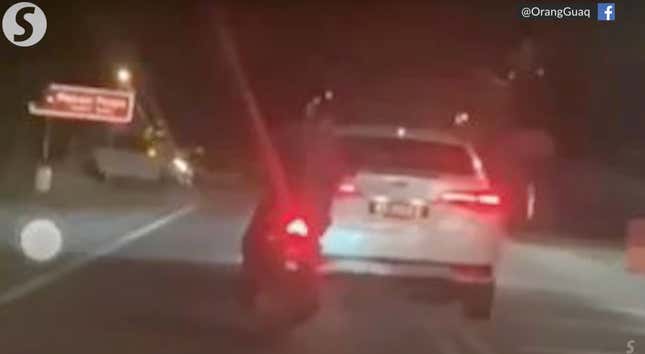 Kids today, am I right? Coddled so much they don't even know how to do crimes in the right order. Take for example the six-year-old and his three-year-old brother, who jacked their parents car in order to drive to the toy store to buy a toy car.
Like, just steal the toy car at this point! You're already driving without a license and committing grand theft auto after all. Or better yet, forget the toy car, you have a full-size one now! The joyride ran for 1.5 miles on the Malaysian island of Langkawi Wednesday late at night. Police scooped up the two after they crashed their mom's Toyota Vios into a lamp pole, from CNN:
Langkawi police chief Shariman Ashari said the car they were driving, a silver Toyota Vios, had attracted the attention of other drivers who gave chase because they assumed the driver had been "drunk."

He said the boys had sneaked out of their home while their "mother was in the bathroom and father was asleep" and taken the vehicle. They had traveled about 2.5 kilometers (1.5 miles) before the crash, which damaged the car's bonnet, Shariman added.

"The driver was a minor aged six, who was driving a passenger – his brother, aged three. The crash occurred when the car, traveling from Ulu Melaka towards Kampung Nyior Chabang, lost control and crashed into a lamppost near Kampung Titi Chanwang," Shariman said.

The toy store probably wasn't even open. Were they gonna ram into the store, find the toy and then leave money on the counter? Probably! It's like they weren't thinking ahead at all. Did they even do recon?

Luckily neither the kids, nor anyone else, were terribly injured in the crash, though the 6-year-old suffering a scratch on his chin. Police are investigating the incident as a reckless driving case, which is a tad unfair. Sure their heist made no sense, but a 6-year-old made it a mile and half and only hurt himself. It's no 12-year-old driving 400 miles to meet an online buddy, but its gotta count when it comes to sentencing time.