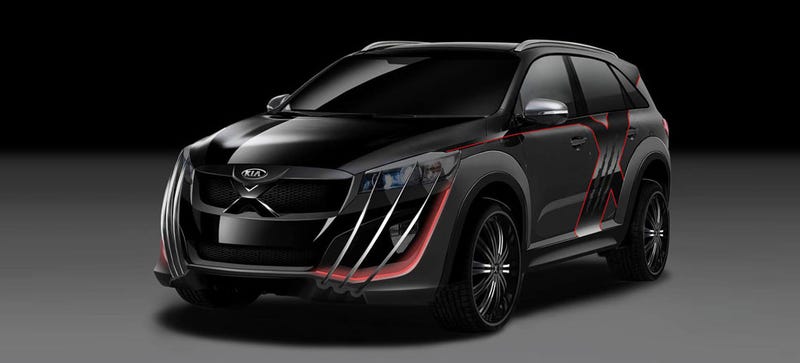 In case you forgot that movie releases onto DVD are almost as big a deal as their releases into theaters, Kia's here to remind you by making a special Sorento to commemorate X-Men: Days of Future Past's release on laserdisc or whatever. They also are pretending you don't know which X-Person this car is based on.
Yes, just in case the gigantic Adamantium claws are too subtle for you to identify, they're having a contest so you can pick which noted mutant inspired the design. Hmm.
The Sorento showed in the renders here has some massive metallic claws at the front and rear, and a custom X-Men graphics package on the side. These images seem like renders, though the real thing will be available to be seen at the Kia-sponsored 2015 Australian Open.
The Wolverinized Sorento doesn't seem to be any different under the hood, and will likely be just an aesthetic modification. Unless those claws are actually made of Adamantium, in which case the Sorento's crash rating would likely be substantially improved.
In a way, the Sorento is an ideal canvas for these sorts of themed designs, since it tends to be so boring that it becomes the perfect blank slate.
I still wouldn't mind seeing one based on Mistique, since I bet that weird rubbery-looking scaly blue skin would really bring out the lines of the car. As it stands, this Wolverine-inspired Sorento actually reminds me a lot of another smaller SUV, the Mahindra XUV500.
See? There's something about that design that I think could work even better with those huge claws. Maybe Mahindra can snap up the sponsorship for the Indian release of the movie.