This is the Morning Shift, our one-stop daily roundup of all the auto news that's actually important — all in one place at 9:00 AM. Or, you could spend all day waiting for other sites to parcel it out to you one story at a time. Isn't your time more important?
---
1st Gear: This Is Kia's New Rear-Wheel Drive Flagship Sedan
Last night Kia revealed the first official sketches of its all-new flagship rear-wheel drive sedan. Codenamed KH, the new model is Kia's first ever back-end-driven four-door and combines innovative design with high-tech features. From what we can see now, the new model features a softening of the brand's hard-edged "Tiger" radiator grille. Likely built off the Hyundai Genesis "BK" platform, the "KH" will be launched in the Korean market during the first half of this year — and other markets will come over the next 12 to 18 months. But will one of those markets be the United States? All we'll say is Kia PR is basically just working on when they're going to tell us "Yes."
---
G/O Media may get a commission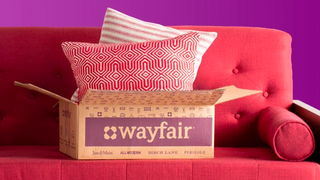 Big deals
Wayfair Surplus Sale
2nd Gear: Aston Martin DB5 To Drive Another Day In New Bond Movie, 'Skyfall'
The Sun reports that James Bond's iconic bullet-firing Aston Martin DB5 is back for 'Skyfall' — the latest 007 film. No, you read that correctly — we didn't mis-type 'DB9.' Daniel Craig was spotted driving the legendary silver sports car, armed with machine guns, in a chase scene in the new film Skyfall. The DB5 will reportedly still bear the same BMT 216A license plate it sported on its 1964 incarnation in Goldfinger, back when Sean Connery played 007. Also, in other 007 news, The Daily Mail tells us it looks as though Craig might be getting a few tips on how to handle his wheels from Ben Collins — best known as Top Gear's last Stig — who was seen on the set of the film, again reprising his role as Craig's stunt driver.
---
3rd Gear: Dodge Recalls 10,000 Charger Pursuit Police Cruisers
The National Highway Traffic Safety Administration (NHTSA) has announced Chrysler will recall (PDF) almost 10,000 Dodge Charger Pursuit police cars for models years 2011 and 2012. The police cruisers may suffer from either an overheating light harness, which can cause low beam lights to fail, or failed anti-lock brakes and stability control systems due to an overheated power distributer. Both which can, of course, lead to fiery death!
---
4th Gear: Don't Expect Hyundai To Build A Truck Any Time Soon
While Hyundai has, at times, toyed with the idea of building trucks and even telling us once he was very open to the idea of a Bronco-like off-roader, John Krafcik, CEO of Hyundai USA, tells Fox News that's not going to happen any time soon. "We're not a big truck player. I like to say brands define themselves as much by what they choose not to do as what they chose to do. We could be a truck player if we wanted to, we choose to focus on more fuel efficient segments of the market."
---
5th Gear: 2013 Lexus RX Gets Fanged Front End
Lexus will unveil two new models at next month's Geneva Motor Show — the facelifted 2013 Lexus RX and a brand new RX F Sport based on the RX 450h hybrid. Well, and by next month, we really mean that they've been revealed now — thanks to a leaked official brochure. The brochure, first run by Minkara and next by Motor Authority shows the new 2013 RX and includes details on some of the options and pricing for the Japanese market.
---
6th Gear: Breaking Out More Details On The 2012 BMW M6
If you missed this weekend's reveal of the new third-generation 2012 BMW M6, Horatiu Boeriu over at BMW Blog has a quick walkthrough of the super-coupe's new compound braking system and optional M carbon-ceramics. Check it out here.
---
Reverse:
⏎ Porsche's Magnificent First Stab at the New 911. [Wall Street Journal]
⏎ Ford seeks buzz for Focus ST. [Detroit Free Press]
⏎ India's carmakers on fast track to capacity glut. [Reuters]
⏎ Can you fit a woman inside a Ram Box? Yes. [USA Today]
⏎ At Fashion Week, Crafting with Car Parts. [Wall Street Journal]
⏎ Eastwood Super Bowl Ad: Powerful, Inspirational and Dead Wrong. [Huffington Post]
⏎ 2012 Dodge Charger: A Full-Size Upgrade From Dodge. [New York Times]
⏎ He's back: John Force gets holeshot win at Winternationals. [USA Today]
⏎ Elon Musk Anticipates Third IPO in Three Years With SpaceX. [Bloomberg]
⏎ Book review: Tale of Fiat empire and the family behind it. [USA Today]
⏎ Infiniti Emerg-E Concept (LEAKED). [Joke For Blog]
⏎ Detroit News auto coverage team decimated after critic Scott Burgess quits for AOL Autos gig. Glad to see — given their recent lapses — they're finally going to be getting someone who understands the definition of the word "ethics." [Crain's Detroit Business]
---
Today in Automotive History:
On this day in 1981, a series of explosions destroyed more than two miles of streets in Louisville, Kentucky. The blasts were caused by the ignition of hexane vapors which had been illegally discharged from a Ralston-Purina soybean processing plant located near the University of Louisville. [Wikipedia]
Show us your tips!
Got tips for our editors? Want to anonymously dish some dirt on a competitor? Know something about a secret car? Email us at tips@jalopnik.com.
Lost in our new layout?
Click here for the Opposite Lock or Tips forums. Want a more "blog-like" look? Click the button up top next to "Top Stories."
Get more Jalopnik!
Want even more Jalopnik? Want to know which of your friends read us? "Like" us on Facebook and follow us on Twitter.