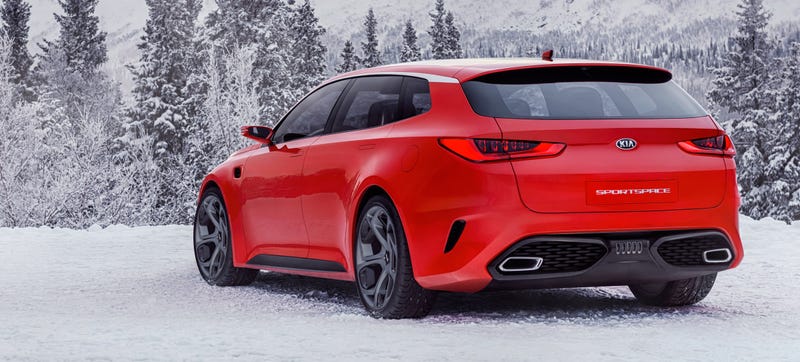 Further proof that wagons are cool hip and trendy these days: Kia's new Sportspace concept car, built to preview their next family car, is a longroof.
The Sportspace looks very much like the next Optima, if only the Optima had four racing bucket seats, an all-glass roof, and load space in the back that looks like it could take a chest of drawers.
Here's the Kia's interior, with one of those central spines car designers seem to adore these days.
Dig that instrument panel.
As AutoExpress reports, designer Gregory Guillaume gave a statement on the car's wagon intent.
We set out to design a car that is a totally new breed of grand tourer – one for active people who need reasonable cargo space on the weekend, but don't want to compromise moving around in style, comfort and with an element of sportiness.
This is a very car designer-ey way of saying 'this car also has room for that old couch you need to get rid of' or 'you totally screw back there.'
Either way, this is further evidence that wagons look cool, and are practical, and have room for babymaking activities behind the rear seats.
You can see live photos of the car in person right here and we will see it live at the Geneva Motor Show in March.
Photo Credits: Kia