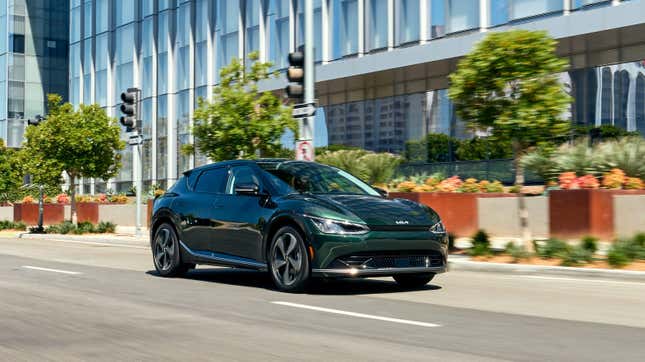 Kia is celebrating the EV6 winning The North American Utility Vehicle Of The Year (I stand firm in my belief that the EV6 is not a crossover) by giving it a special edition. It has a very long name and it's green. Witness the 2023 Kia EV6 North American Utility Vehicle of the Year Limited Edition. Yes, that's its full name. No, we're not kidding.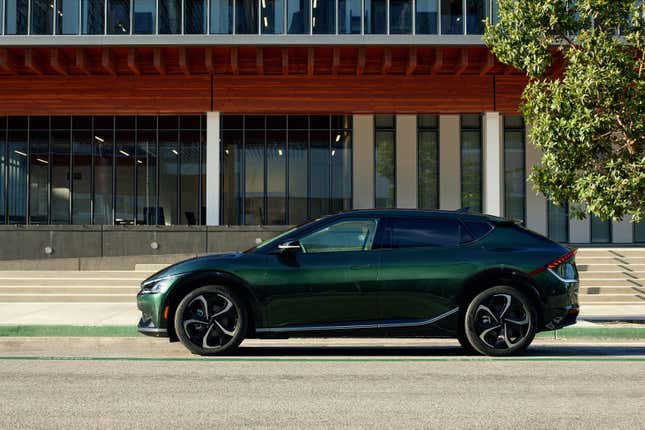 Kia showed the limited edition EV6 at Pebble Beach. The basis for the limited edition is a unique EV6 that combines elements of the Wind and GT-Line trims. Outside it gets painted in a Deep Forest Green exterior paint, blacked out wheel arches, side treatments and front and rear facias along with 20-inch wheels.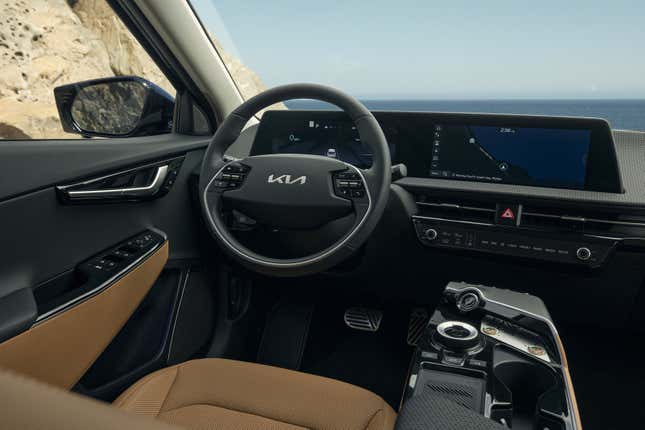 Inside features Desert Beige-colored seating with a special North American Utility Of The Year plaque by the rotary dial shifter. The combination of the green exterior paint and the beige seating is something Kia says pays homage to "classic performance vehicle styling combinations." All the other usual tech and driver safety assistance features are standard.

Power comes from a 77.4 kWh battery combined with a 74 kWh front motor and a 165 kWH rear motor. Total combined output is 320 horsepower. No word on range but given that this same powertrain, battery and horsepower output is on the EV6 GT-Line with all wheel drive, it's safe to say that this limited edition EV6 will get the same 252 miles of range as the EV6 GT-Line.

Kia isn't talking about pricing yet, but I see this starting close to, if not cresting, $60,000. You're going to want to act fast if you want to get your hands on one though. Kia is only making 1,000 of the North American Utility Vehicle of the Year Limited Edition when they go on sale later this year.