MONTEBELLO, Calif., October 30, 2013 – For Katzkin, the global leader in automotive interior transformation, the key to the company's more than 25 years of leadership success is its belief that empowering consumers with excellent design choices will provide the best interior solutions possible. Katzkin will be showcasing that philosophy during the 2013 SEMA Show at its booth (#12139) in the North Hall of the Las Vegas Convention Center, November 5-8, 2013. More than 90 additional Katzkin interiors will be on display throughout the entire show.
According to Brooks Mayberry, CEO for Katzkin, the company embraces design philosophies so strongly within its core values, that the brand has added a licensing agreement with international automotive designer and star of television's "Overhaulin'," Chip Foose, providing yet another pillar to support the company's world-class marketing strengths. The design addition enables the brand to reach an even broader enthusiast audience by adding street performance credibility to an already successful interior repertoire which includes premium/luxury, tech/sport and urban interior collections.
"Our goal is to enhance further the expressive and individualistic design direction that Katzkin creates," said Mayberry. "Chip's extensive background and design passion add another dimension and approach to our personalization initiatives, while opening the channels to gain a larger, enthusiast-based audience for our products."
Foose-inspired designs and seats will be a creative component in this year's 2000-square-foot Katzkin display during the 2013 SEMA Show, which also boasts a 25-foot tower featuring two rotating cylinders and includes a massive 84" monitor that showcases Katzkin video footage. Apple iPads will also be available to visitors within the booth to explore Katzkin's website and Vehicle Interior Selector (VIS).
G/O Media may get a commission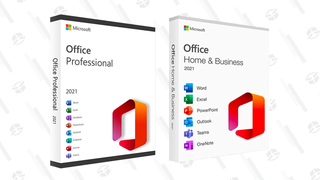 89% off
Microsoft Office Professional 2021 Lifetime License
Katzkin at SEMA 2013
While the brand has played a role in SEMA for more than 25 years,the push toward creating a strong, visually expressive presence at the Show has never diminished. Featured Katzkin displays for 2013 will include:
A total oftwenty-one (21) seat displays, including nine (9) Katzkin special edition designs (Jeep Grand Cherokee, Ford F150, Toyota RAV4, Hyundai Sonata, Toyota Prius, Honda Accord, Nissan Altima and Chevy Silverado) and three (3) Chip Foose designs (Ford Fusion, Ford F-150, and Chevy Camaro).
Three (3) full-size vehicles featuring Katzkin designs:
Hyundai Santa Fe (SF/K) representing the advanced product development, quality and design standards Katzkin continues to provide to OE manufacturers while showcasing Katzkin's "Urban Trek" area of SUVs — with larger wheels and tires for improved performance and improved visual balance. Much like a corporate jet on wheels, Katzkin's interior transformation for the SF/K provides an environment of personal luxury and performance. The luxury feel is achieved with new materials and textures including a new state-of-the-art DEGREEZ heating and cooling system. Katzkin's SF/K seat design features rich brown dipped leather with contrasting accent color bands that frame the seat bolsters.
Jeep Wrangler 4-Door is displayed within Katzkin's "Premium Rugged" area, featuring a unique rugged style concept that pushes beyond the factory design, defining the way a custom tailored business suit meets a rugged cross trainer. Perforated leather bolster and inserts help grip the driver while expressive design features and sew lines give an aesthetic quality, further justifying Wrangler as the ultimate personalization machine.
Fiat 500 showcases an "urban expressive" sports wrap with Mopar exterior accessories. The overall Katzkin design takes the already trendy and fun-to-drive Fiat 500 into a "haute couture" urban interior expression that lifts the image to "walk the runways" with a new, fresh, inspiring attitude.
New technologies that empower both the customer and the Restyler:
Katzkin's updated Vehicle Interior Selector (VIS) is a user-friendly, web-based program that allows consumers, dealers and restylers to customize leather interior choices that meet the specifications for more than 3,000 vehicles. SEMA visitors can familiarize themselves with the VIS on iPads within the Katzkin display area or go directly to www.katzkin.com.
Katzkin's VIS system offers three (3) levels of design:
Factory Design: Interiors designed and handcrafted to match the factory leather specifications.
Katzkin Design: Interiors created by Katzkin professional designers to enhance the personality of each vehicle.
Your Design: Create your own custom interior selecting from Katzkin's most popular colors and options
The debut of the Degreez Seat Heating and Cooling System can be seen on the Katzkin-displayed Hyundai Santa Fe concept vehicle. Degreez is the finest seat cooling and heating system available to the aftermarket. Specifically engineered to provide optimal active heating and cooling in a universal fit package for most applications, Degreez offers 3 levels of cooling and 3 levels of heating for the cushion and back of each seat. Using reticulated foam and perforation allows maximum air flow for consumer comfort. A cutaway display of the Degreez system will be shown as an entry into SEMA's New Product Showcase.
Katzkin's Chief Designer, David O'Connell, contends that Katzkin's design goal is to make the interior the hero of the car. "Our reward comes when a consumer opens the door and says 'Wow!' – if we can make an impression, then we've been successful," said O'Connell. O'Connell came on board with Katzkin in 2010, after spending nearly two decades as chief designer for Mitsubishi Motors. He also teaches design at the prominent and world-renowned Art Center School of Design in Pasadena, California.
"Innovative design stems from passion," said O'Connell. "And our company culture has embraced design as a way of doing business," he continued. "The first step is not only to understand the vehicle, but more so, the buyer. That way we can merge super-high quality, state-of-the-art manufacturing and a customization process which collectively provides customers affordable luxury opportunities that are not only exciting, but express the personality of both the vehicle and its owner."
Source: Katzkin