OK, the Germans and Japanese have had their turns. Now it's time to see if the United States can grab the Junkyard Nightmare Build Quality Challenge trophy back from the Germans!
After Buick's very disappointing performance in the Door Panel Edition of the Junkyard Nightmare Build Quality Challenge, we had high hopes for this '95 Riviera to change our opinion of mid-90s GM build quality. Whatever else happens, at least we can say that the Riv is the best-looking car of the three!
G/O Media may get a commission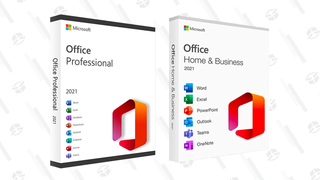 89% off
Microsoft Office Professional 2021 Lifetime License
We don't see anything particularly intimidating-looking here; maybe instrument cluster removal will be a walk in the park!
In keeping with the "no visible fasteners" ethos that took hold during the 90s, the dash fascia offers no clues as to removal method.
Just like the LeSabre in the Dashboard Edition, the Riviera boasts "Passenger Comfort" controls.
How the hell do you get this thing off?
Previous experience with GM products has taught Shawn that many dash and trim components will be held on by various one-way/one-time plastic clips, which means that removing components without breakage is very dificult.
All right, let's forget about being gentle and/or sparing parts we don't care about. Crunch!
Once the fascia has some wiggle room (created by busting off a number of hidden, fragile clips), the remaining attaching hardware may be removed easily.
An inner bezel is now revealed, and its mounting screws are pretty easy to find.
A few turns of the screwdriver...
...and we're closer to our goal. Aren't those good-looking gauges? We think so.
At this point, it appears that all the cluster mounting screws are in plain sight.
The cluster is loose, but it's a real headache to squeeze it past the steering column.
It's also a skin-removing adventure to detach the electrical connectors on the rear panel of the cluster. The connectors themselves seem to be of pretty decent quality.
It's out!
Next stop: the trunk lid aka work bench.
The clear plastic cover appears to be held on with Phillips screws.
This big circuit board comes off via the removal of a few more screws. So far everything about this cluster seems uncannily... Japanese.
No wonder— It's made by Nippondenso! Outsourcing works in mysterious ways.
Removal of a few more screws permits Shawn to split the cluster open and access the gauges.
Each gauge is a modular unit in its own little discrete pocket. Again, very Japanese.
The speedometer should lift right out.
There we go! In summary, the first part of the American portion of the Speedometer Edition JNBQC was a typical GM knuckle-and-plastic-clip-bustin' affair, but the Japanese-made cluster was quite easy to disassemble... once it was unearthed. We're going to give the win to the Infiniti this time, with the Buick in second and the BMW in a very close third place.

Junkyard Nightmare Build Quality Challenge Door Panel Edition Home