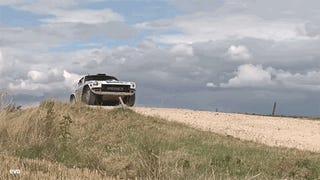 Evo's car versus bike tests usually don't make much sense, but when it's between a monster off-road Datsun 240Z going against a Group N+ Mitsubishi Evo VI and the enduro champ KTM 450 EXT, they got my attention.
I really don't know anything about bikes. We have smarter people for that. What I do know is that you can turn a Datsun 240Z into pretty much anything from a widebody track car to a life hazard with a diesel truck's turbo, or in case you're Dansport, a one ton rally car designed to fly all over the Safari Rally stages. Just listen to that straight-six!
And the Evo VI? Oh, that only happens to be the most versatile rally machine ever known to man. I love the Integrale, the 131, the Stratos, the Escorts and all, but you give me a Tommi Makinen Edition slightly beefed up, and I'll be faster. Yes, I'm into Evos.
And 240Zs.