When it comes to the small world of aviation photography, José "Fuji" Ramos is notorious for taking fantastic shots, often times from the backseat of a Navy aggressor jet. Here's what he captures.
José's images have a certain candid presence and mood about them that is often lost in the comparatively sterile and forgiving world of digital photography. You can sense that their is an experienced eye behind the viewfinder, and rightfully so, as he has been plying his trade successfully for almost 25 years. This means he was clicking the shutter while pulling Gs long before the DSLR would change the world of photography as we knew it.
Fuji, which is the callsign given to him by those who have flown him over the years, has his first published photo back in 1989 in Naval Aviation's magazine The Hook. Since then his work has been seen all over the world, and rightfully so, but his career really "took off" back in 1997 when he earned his NATOPS qualification. He has since flown in almost every tactical aircraft in the US Navy's inventory, including the Hornet, Super Hornet, S-3B Viking, EA-6B Prowler, F-5F Tiger II and yes, the mighty and greatly missed F-14 Tomcat. He has also done a good portion of his air-to-air shooting flying directly off America's nuclear powered aircraft carriers.
During José's pursuit of capturing the essence of aviation in stills, he has also flown on many civilian aircraft as well, some of which were not your run-of-the-mill Cessnas and Pipers. Instead these were high-performance jet trainers, such as the L-39 Albatross, T-33 Shooting Star, Aermacchi MB.339 and many historic prop-driven warbirds. Yet when pressed as to what has been his favorite thrill-ride, or should I say "photo ship," of all time he always comes back to the slender and nimble F-5F Tiger II.
G/O Media may get a commission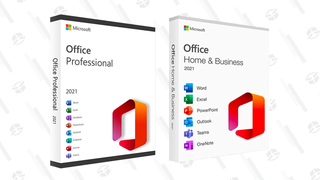 89% off
Microsoft Office Professional 2021 Lifetime License
This is not just because it is fun to ride in and has a comfortable cockpit with good visibility, or because it was the mechanical villain in the 80s blockbuster TOP GUN, but because when he flies in an F-5 he is flying with his second family, VFC-111, otherwise known as "The Sun Downers."
VFC-111 is a squadron that is dedicated to fleet adversary support (aggressors) and is based out of picturesque Key West, Florida. Fuji regularly flies with them on photo missions and has become an honorary member of the unit, which has a long and colorful history dating back to WWII, and he attends many of the same functions and rituals that the squadron's officers do. This is a very rare scenario for a photographer, as not just anyone is welcomed into the "inner sanctum" of a fighter squadron's guarded culture, which is a true testament to Fuji's passion, likability and talents behind the lens.
In his own words, José describes where is love of aviation and photography has taken him:
I was always drawn to aviation having heard my dad's stories of flying with the Cuban Army Air Corps in the the late 1950's in T-6 Texans and T-33s. He was also the one that put my first camera in my hands in the form of a Kodak X-15 126 film camera when I was very little. My father was also instrumental in my love of history and it all basically took off from there. In 1988 I combined both passions and started documenting Naval Aviation at the age of 18 while living at NAS Key West. My first flight with the US Navy took place again at NAS Key West flying in the F-14 with the Grim Reapers of VF-101. Flying and working with these squadrons over the last 26 years has been an incredible honor very few people are given and no magazine cover or exhibit compares to having the crews that fly these marvelous aircraft appreciate and get excited about your imagery.
José also represents Nikon Professional Services at events across the US on a freelance basis, was a keynote speaker on aviation photography for Nikon at the 2009 COMFOT Expo in Mexico City, Mexico, was guest speaker at the 2012 International Society for Aviation Photography symposium in Norfolk, VA, as well as a speaker on Military Aviation photography at the 2013 Photoshop World Expo in Orlando, Florida.
Fuji is also currently serving as a contributing photographer and writer for The Hook magazine, is the Photographer in Residence at the Sun 'n Fun International Expo & Fly-In in Lakeland, FL. Additionally, he is also the official photographer for The Black Diamond Jet Team and Draken International and as I mentioned earlier he is an honorary member of the U.S. Navy's Fighter Squadron Composite One-Eleven.
So with all these incredible accomplishments in mind, let's take a look at some of "Fuji's" incredible shots, and remember to check out his homepage and flickr page for more great shots and contact information.
A huge thanks to Fuji for sharing his passion and talents with Foxtrot Alpha readers, and remember you can see more of his work at flickr or on his homepage where his contact info for prints, gigs or just to say thanks for the great images, can be found as well.
Tyler Rogoway is a defense journalist and photographer that maintains the website Foxtrot Alpha for Jalopnik.com You can reach Tyler with story ideas or direct comments regarding this or any other defense topic via the email address Tyler@Jalopnik.com