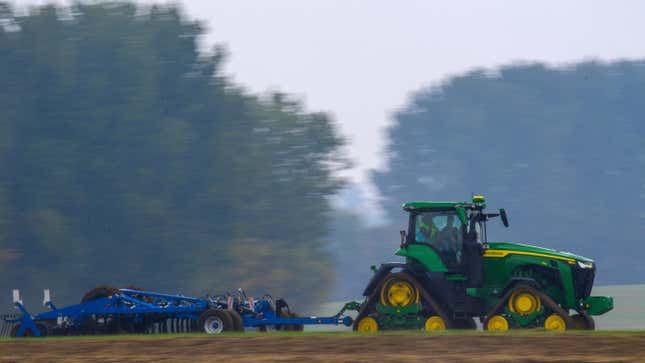 The fight over right to repair has been heating up over the last few years. Owners of everything mechanical, mainly things like vehicles and farming equipment, want to be able to freely repair the machines they purchased. But manufactures want to be the only ones to provide those repairs. From the state to the federal level, right to repair laws are being looked at or passed. And as The Wall Street Journal reports, it seems a win has been scored: John Deere agreed to ease up over farmers repairing their equipment. But it's a win with a tractor-sized loophole.

2024 Nissan Z NISMO | Jalopnik Reviews
John Deere's right to repair issues have been going on for years. Back in 2018, the company took a stance against right to repair laws by trying to spin it as a net positive for the customer. Our own Elizabeth Blackstock said it best: "Basically, Deere was promising that the services it was providing would do some of the work of the laws, so there was no point in actually passing those laws."
Deere was supposed to make it easier for farmers to work on their equipment. Except that's not what happened. A report from Vice showed that Farmers encountered issues getting "diagnostic software, tools, or parts from dealers as was promised."

But now The Journal reports that John Deere has signed a memorandum of understanding with the American Farm Bureau Federation.

The agreement creates a mechanism to address farmers' concerns and give them access to resources needed to repair their own equipment, such as diagnostic and repair codes, manuals and product guides.
From The Verge:

As part of the agreement, John Deere and the AFBF will meet "at least semi-annually" to evaluate how the equipment-maker's addressing operational concerns and suggest updates to the memorandum of understanding, as well as discuss anything related to the right-to-repair movement, which has started to heat up across the US.
But digging into the language of the agreement, you'll notice that if John Deere sees any movement towards any sort of right-to-repair laws, they can pull out of the agreement immediately:

The memorandum says it seeks to address the so-called "right-to-repair" issue through the private sector, rather than through regulation or legislation, and discourages the federation's state organizations from introducing, promoting or supporting such legislation.

Should state or federal right-to-repair legislation be enacted, both Deere and the federation have the right to withdraw from the agreement with 15 days' written notice.
So if John Deere doesn't play fair, and farmers start to push for legislation, John Deer can yank back these concessions as quickly as it gave them.