We all love Jeremy Clarkson because he's a real and bona fide car guy. He tells it like it is, dammit! And, surprise surprise, he's also got fabulous taste in cars.

For JC to love a car, it can't just be pretty or fast. In his column for The Sunday Times, he outlines his requirements for a "star car." From the story:
My colleague James May calls it "the fizz". He says that when he is driving a really good car, its excellence manifests itself with a fizzing sensation in the root of his manhood. I have not experienced this myself, and it's likely you haven't either. But I sort of know what he means.

[...] A car must have something to elevate it from the norm. It may be speed, or cleverness, or the fizz, or styling to die for. But there must be something. Something that makes you excited every time you climb inside. Because if it doesn't, then it's just a tool. And if it's just a tool, you may as well use the bus.
And Jezza's top 10 drives of the past year-ish?
Mazda MX-5 2.0 Sport Recaro: What kind of monster doesn't like the Miata?
Alfa Romeo 4C: A magical car for insane people.
Mercedes-AMG GT S: We won't disagree with this pick.
Ford Focus RS: Same. We dig this car, if the 10,000 posts we've done about it didn't tell you that.
Ford Mustang GT: If you can find a better modern V8 muscle/pony car than this one, buy it.
Volvo XC90 D5 AWD: The SUV that will make you love SUVs.
Vauxhall Zafira Tourer 1.6 CDTi Tech Line: I don't know what that is but it sounds nice? Sure, whatever. Europeans deserve nice economy cars too.
BMW M2: Instant future classic for sure.
Ferrari 488 GTB: I certainly wouldn't kick one out of my garage.
Lamborghini Aventador: Nice and subtle.
Funny enough, those would also be my star cars, if I got to drive them. Hmm, maybe I have more in common with Jeremy Clarkson than I previously thought.
G/O Media may get a commission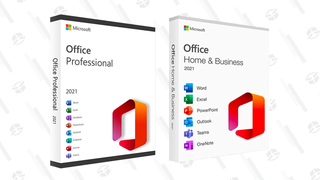 89% off
Microsoft Office Professional 2021 Lifetime License
You can read all of Jeremy's impressions in his column here.