Contrary to earlier reports that McLaren Honda driver Jenson Button was certainly announcing his retirement from Formula One ahead of the Japanese Grand Prix, we've heard nothing. Zero. Zip. Nada. Nope. Not a peep about Jenson's future. Not even about his post-race dinner plans. Noooooope.

On Friday, McLaren chief operating operating officer Jonathan Neale told Autosport:

I really hope we've done enough between us to continue discussions with [Button] and have the confidence to have him with us.

There has been a lot of discussion about where Jenson is going.

Jenson is a fantastic guy, world champion and a big part of our family and we're contracted with him.
We want him to stay, we like him very much but if your driver really doesn't want to be in the team, you have to respect that.
That doesn't sound like a particularly optimistic outlook from McLaren, but Neale also hints that nothing is settled yet. McLaren has an option to extend Button's contract for 2016, but that's all dependent on Button wanting to stay.

Jenson Button rebuked Niki Lauda yesterday over comments that suggested that salary was the biggest issue preventing Button from nailing down a 2016 drive for McLaren.
G/O Media may get a commission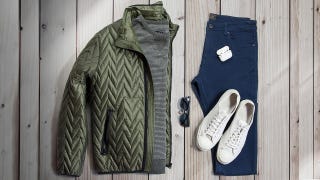 60% off
Jachs NY Fall Sale 60% Off
Lauda told the BBC, as quoted by Motorsport.com:

I said to Jenson yesterday, fight your fight with Ron Dennis over money, because it is always the same.

But then stay, because if you go, one of the last quick guys has gone. What is the best combination to make the car go fast and develop the engine? It is those two guys. Put a young guy in the car and the engine does not go faster.

In the end, Jenson and Ron are clever enough to get it together. Jenson said to me yesterday he wants to drive there and he doesn't want to retire.
Apparently this was pretty far from the truth, and Button told Motorsport.com that Lauda's flat-out making stuff up:
The second one [on money] is not true. The first one, we spoke as I was going for a pee and I never understand him anyway. I think I just said "yes" being friendly.

We didn't have a conversation as such. It is nice he has gone to the media and said that though.
Button went on to explain to Motorsport.com that nothing has changed since his previous non-statements about his future.

There's nothing. Zero. Zip. Nada. Just the wishful dreams of Porsche World Endurance Championship team fanboys, I suppose. But wait! He fanned those flames a bit on Friday, telling Autosport:

In the right situation, I could see me doing [the WEC] in the future.

I've watched a lot of races over the last couple of years and I love the team atmosphere - it's a massive team event.

Achieving a win in a 24-hour race is something I think every driver would love. It's a very special accomplishment.

I can definitely see myself racing in the WEC in the future.
Button refused to comment as to whether Porsche would be "the right situation." Fanboys, conspiracy theorists, and fanboy conspiracy theorists — ASSEMBLE!
He also hasn't ruled off trying out some rallycross, telling Autosport, "Coming off the back of my F1 career, it would be quite fun to do something different."
"Off the back of my F1 career." Hmm. Yes. Hmm.

Hmmmmmmmm.

As far as a 2016 season with McLaren goes, though, I don't think Button's even said anything about what shorts he plans to put on after the race, or whether or not he'll have a nap on his flight out of Japan. That's how little we all know about Jenson Button's future. I can't even tell you if he plans on posing with a bunny rabbit in Austin. We don't know. We. Don't. Know.
This has been your semi-necessary, yet completely unnecessary Jenson Watch 2015 update for the day.

We know nothing, and have nothing to say.

Photo credit: Getty Images

---
Contact the author at stef.schrader@jalopnik.com.