A driver from the development ranks will take former Formula One champion Jenson Button's seat next year, but he is definitely, definitely not retiring. Since Button apparently missed out on 17 years of adult life thanks to his F1 career, he made it clear that "Jenson Button's going to do what he wants in 2017."

Well, everything except drive a race car for the McLaren-Honda F1 team—if he even wants to.
The McLaren team announced its driver lineup for the 2017 season on Saturday, and Button, who turns 37 early next year, is out of the seat. Button signed a two-year contract extension with McLaren, but 24-year-old Stoffel Vandoorne will be the one on the race track. Button, according to the announcement, will be a "key member of the team" instead.
In a video posted on the F1 Twitter account, Button insisted that his time out of the seat will be a break, not a retirement, so that he can "do the things he's never been able to do as an adult." Button said he wants to be able to live by his schedule next year—which should be fun to arrange, since he's still under contract—and spend more time with his family.
G/O Media may get a commission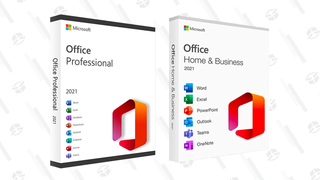 95% off
Cyber Monday - Lowest Price Ever - Microsoft Office Lifetime License
Per the F1 rulebook, each team is only allowed to field two cars per season but can have up to four drivers compete. McLaren called the move to replace Button an "innovative three-driver strategy" for the 2017 and 2018 seasons, but only confirmed Vandoorne and current team driver Fernando Alonso through next year. So, perhaps Button has some substantial backing to insist that he isn't retiring and we're just not supposed to know what it is yet.
Button has been at McLaren for seven seasons, and the team announcement described his new role as a "senior, influential and committed member of the team" who will help with development of the cars and will race for the team "if circumstances require it."
But if he doesn't get back in the car anytime soon, it doesn't sound like Button will take off for another team after his contract is up. From the announcement:
"I love McLaren-Honda – I firmly believe it's made up of the best bunch of people I've ever worked with – and I have no intention of ever driving for another Formula 1 team.

"To be clear, I'm very definitely not retiring. I'm contracted for both 2017 and 2018, I intend to work hard on car-development, and I'm sure I'll get behind the wheel of the new car at some point."
It'll happen at some point, because he's definitely not retiring. Just ask him.