The Jeep Compass only exists because Chrysler has paid for all the tooling and every one they sell is pretty much pure profit. It's a pretty poor excuse for an automobile. What do you need to know before you make a huge mistake and buy a Jeep Compass? Don't worry, we'll tell you everything right here in our Buyer's Guide.

You there. Yes you, the person reading these words looking for information on a new Jeep Compass. You're making a grave mistake. Please reconsider or get counseling or find Jesus or buy anything else that isn't a Compass. Buy a horse and buggy, for goodness' sake. Just don't do this. It's not worth it.
Jeep makes two great vehicles in the CUV class in the Jeep Cherokee and Jeep Renegade. Go and buy those if you want a Jeep. We can recommend both.
The Compass sprung into existence during some of Chrysler's darkest days. The Germans at Daimler were pinching Chrysler's funds and instituting what was known as Material Cost Management (MCMs) to pull every unneeded penny out of production costs. Unfortunately, the Germans thought it was a good idea to save money where people notice it most: the interior. The result was a car whose interior quality is probably one of the worst in the history of automobiledom.
But it wasn't just the interior that made the Compass a steaming pile, it was the powertrain. The Continuously Variable Transmission made a horribly loud drone while the Chrysler World Engines revved and revved under hood.
G/O Media may get a commission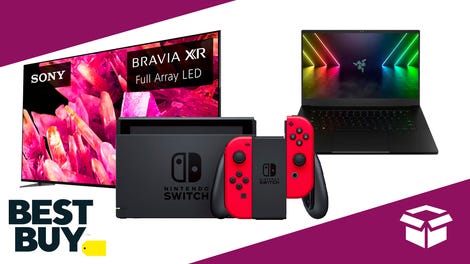 Three Day Sale!
Best Buy - 3-Day Sale
But it wasn't just the interior and powertrain. There was no room in the back, despite the vehicle being a "crossover." In fact, I'll bet you can fit more stuff in a modern Corolla than you can in a Jeep Compass.
Handling, however, was great.
I'm kidding, it was abysmal. Like most things about the Compass.
But Jeep made some updates in the 2011 time frame. The front end got revamped to look more like a Jeep that doesn't suck, the Grand Cherokee. The interior got the Fiat treatment, so it looks much better. Jeep later threw in a long-overdue conventional 6-speed automatic to get rid of the Compass's severe case of "the CVTs." And there are little things that Fiat has done to dress this sardine can up. The exhaust resonator, for example, used to be shiny and prominently visible from the back of the vehicle. That's now painted black to look less "unfinished."
So Fiat has done their best to — and I'll use the cliche you've been waiting for — "put lipstick on the pig," but the Compass and its Patriot companion are just built on underwhelming platforms. They're a product of one of the worst eras in recent automotive times, a time that many people just want to forget about. Why buy a car that's a physical embodiment of failed dreams? You shouldn't.
What's New About The 2015 Jeep Compass
Fiat Chrysler tried fixing this wretched automobile by updating it in 2011 with a new hood, new fenders, a new grille, fresh front and rear fascias, new lamps, and a new interior. 2014 brought a convention 6-speed to the 2.4-liter engine, replacing that loud and not-all-that-efficient CVT. The 2.0-liter still has the drone-o-matic. Few changes were made for the 2015 model year.
Which One We'd Buy
We wouldn't.
[Build Your Own (please don't)]

Important Facts At A Glance:
MSRP: $18,995 - $26,795 Max Advertised Towing Capability: 2,000 pounds (2.4L auto)
MPG: 23 city/ 30 hwy / 26 combined [2wd manual] Engines: 2.0-liter I4, 2.4-liter I4

Curb Weight: ~3,180-3,350 pounds IIHS Rating: Not A Top Safety Pick
Transmissions: 5-speed manual, CVT automatic, 6-speed automatic
Drivetrain Layout: Front engine, FWD/AWD
Photo credit: Jeep