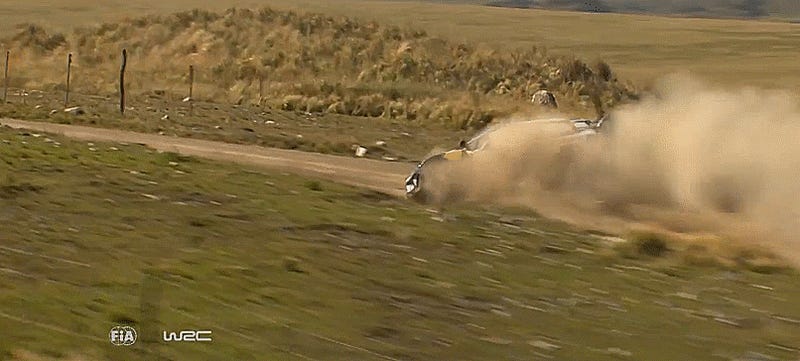 There's an old Beavis and Butt-Head episode where the dynamic duo decides to try out a dryer's spin cycle by climbing inside. That's probably what it felt like inside the World Rally Championship Volkswagen of Jari-Matti Latvala and Miikka Anttila when they lost the Rally Argentina lead in a massive rollover.

The Volkswagen duo entered stage 14 with the lead and left it with a major crash after hitting a rock. Latvala explained what happened to WRC.com:

I was in a very fast section where there was a bit of bedrock on the road, and when we went over the bedrock suddenly the front-right top-mount broke and the damper came through the bonnet.

At that moment I couldn't steer the car any more, we went into a bank and we rolled.
While Latvala is allowed to rejoin the rally tomorrow if his car is back together, he told WRC.com that he did not expect to do so.
Both Latvala and co-driver Anttila were unharmed in the roll, reports Crash.net. Roll cages! Roll cages are pretty great.

This crash gave the lead to Hyundai's Haydon Paddon, who would love to take his first WRC win. Of course, the car who wins so much that The Rally Takeover has a special "NOgier Cup" going in their fantasy WRC league is in second place going into the Sunday stages: the über-dominant Volkswagen sister-car of Sébastien Ogier. Paddon leads Ogier by 29.8 seconds, so tomorrow should certainly be an interesting day of rally.

[H/T TheTurbochargedSquirrel for ouch geez oof that video wow]