1st Gear: More Like LOLdrogen
Even with low demand in the U.S. thanks to cheap gas (for now), the consensus, increasingly, is that electrification is the future of automobiles. Even the smaller players like Mazda, Subaru and Maserati are planning EVs in the coming years. Nissan, it seems, was the Japanese automaker most ahead of the curve here with the Leaf.
And now two very big players are coming around in Japan: Honda and Toyota. Both had banked on hydrogen fuel cells as being the future, but are finally starting to realize battery power is the way to go instead. Via Automotive News:
At the same time, Toyota Motor Corp. — which until now has passed on EVs in favor of its pioneering pursuit of hydrogen fuel cell vehicles — says it will launch an "in-house venture company" next month to start developing battery-powered eco-cars in a speedy, innovative way.

[...] Toyota itself has played the role of EV skeptic for the past several years. But in November, it conceded publicly that it needs electric vehicles.
Its new business unit will consist of just four people to start. Each of them will come from a separate Toyota Group company in a gambit to accelerate decision-making and get the cars to market quickly. One member will come from Toyota Motor, the others from key Toyota suppliers, Toyota Industries Corp., Aisin Seiki Co. and Denso Corp.

Toyota CEO Akio Toyoda said in a Nov. 17 release announcing the group that its small size is intended to permit "unconventional work processes" in a bid to accelerate new products and get them onto the market.

"As a venture company that will specialize in its field and embrace speed in its approach to work, it is my hope that it will serve as a pulling force for innovation," Toyoda said in the statement. 

Let's face it: hydrogen isn't likely to be the fuel of the future the way Toyota wants. At least not yet. Now the automaker has to play catch up on EVs.
2nd Gear: At The VW Group, A Fight Over Resources And People
It's always been an open secret that the Volkswagen Group brands competed internally with one another, even when executives publicly denied it. That hasn't changed in the aftermath of Dieselgate and its ensuing cash crunch. In fact, the knives are out even more these days, reports Reuters:
But senior executives told Reuters that in-house conflict, particularly between VW and its premium brands, is intensifying over which factories will develop next generation cars while the German group has to cut costs elsewhere to pay for cleaning up its emissions cheating scandal.

"There is a cut-throat battle for resources. Every brand with engine-manufacturing capacity now wants a leadership role when it comes to electric motors, battery packs and battery-cell expertise," an executive at one of the VW divisions, who declined to be named, said.
G/O Media may get a commission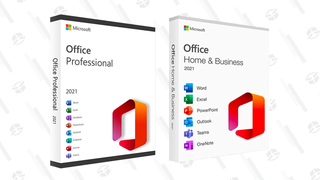 89% off
Microsoft Office Professional 2021 Lifetime License
The story is worth a read in full, but here's an example of the drama, especially between Audi and Porsche—and I don't mean on the race track.
Audi has long been the VW Group's biggest profit and engineering driver, but with the loss of executives over the diesel scandal and other factors, Porsche has been slipping into that role more and more.
Porsche's MSB platform, used for its four-seater Panamera model, has been adopted for the next generation Bentley Continental even though Audi had developed a similar offering.

Porsche has also taken over production of eight-cylinder gasoline engines for large sportscars for the VW group, even though Audi has its own engine factory in Hungary.

"For Audi, it has always been difficult to accept if Porsche gets something. They tried to resist the Porsche platform but in the end, a business decision was made," a Porsche source said.

Audi is not out in the cold. It remains the centre of excellence for sports utility vehicles, a lucrative and growing market, where it supplies platforms to Porsche and other brands such as Bentley. With self-driving vehicles likely to play a major future role in the industry, Audi also develops autonomous cars for the group.
3rd Gear: Insert Lucas Joke Here
Indian-owned Jaguar Land Rover takes great pride in the fact that its vehicles are primarily engineered and built in Great Britain, and Reuters says it wants to keep that going as it too shifts into EVs.
But Chief Executive Ralf Speth suggested that the Indian-owned automaker, which operates three car plants in central and northern England, could bring further production to Britain.

"We want to build our EVs (electric vehicles) in the West Midlands, in the home of our design and engineering," Speth told an industry meeting on Thursday evening according to a spokeswoman.

Speth told Reuters in September it made sense to build electric batteries and cars in its home market if the conditions, including pilot testing and support from science, were right.
4th Gear: Your Car Needs More Power
Speaking of electricity, as cars add more and more sophisticated features, it takes more and more juice to run them. The next big thing is 48-volt electrical systems, and The Detroit Free Press is here with what a big shift that is:
Vint says 48-volt systems with lithium-ion batteries about the size of a current 12-volt battery will also enable cars to drive short distances solely on electricity at a lower cost than current hybrids. The new parts will initially be expensive, but Vint said Valeo expect to drive them to "commodity levels" with development and rising production volumes.

The move to 48-volts would be the first major change in automotive electric systems since most cars switched from six to 12 volts in the 1950s. Luxury automakers have been touting 48-volt systems to power new features for years, but they've yet to catch on.

While 48-volt systems provide power for more advanced new systems like the supercharger and active body roll control, the wires aren't dangerous to touch, making them easier to deal with than the high-voltage systems in many hybrids.

Valeo expects 48-volt electric systems will operate in tandem with 12-volt systems in vehicles for the foreseeable future. They'll gradually spread to power fans, window defrosters, seat and steering wheel heaters.
5th Gear: Lock Your Apps To Avoid Distraction
Here's a hardline approach to driver distraction: the NHTSA is proposing that if a car gets paired to a smartphone, most of the phone's apps get locked while it's in motion.
But the phone-mongers don't like that one bit! Via the Detroit News:
The National Highway Traffic Safety Administration is proposing a new rule that would ask manufacturers of phones and other electronic devices to voluntarily lock most applications that could distract drivers when cars are in motion. Under the proposal, features like internet browsing and texting would be blocked on phones that are paired to the on-board computer systems of cars.

Gary Shapiro, president and CEO of Consumer Technology Association, said the highway safety agency has overstepped its bounds in moving to regulate devices that are not built into cars.

"NHTSA's approach to distracted driving is disturbing. Rather than focus on devices which could reduce drunk driving, they have chosen to exceed their actual authority and regulate almost every portable device," Shapiro said in a statement.

"This regulatory overreach could thwart the innovative solutions and technologies that help drivers make safer decisions from ever coming to market," he continued. "Further, NHTSA doesn't have the authority to dictate the design of smartphone apps and other devices used in cars — its legal jurisdiction begins and ends with motor vehicle equipment."
Reverse: Duryea!
Neutral: Will Toyota Suffer For Being Behind The Curve?
Or can the world's second-largest (or maybe largest, them and VW go back and forth a lot) automaker catch up fast?