In the opening scene of the 1983 James Bond movie, Octopussy, Agent 007 flies the world's smallest jet aircraft — the Bede BD-5J, while evading potential captors and a heat-seeking missile. This weekend, you'll be able to own that plane, with which to play your own spy games.
BD-5J photo by Steve Montgomery (Flickr / CC Commercial License)
Weighing only 358.8 pounds, the Guinness Book of World Records lists the BD-5J Microjet as the lightest single-engine jet in the world. The plane flown in Octopussy will be up for sale this weekend at Julien's Auctions' Icons & Idols: Hollywood sale, in Beverly Hills. The plane is expected to fetch $200,000 to $300,000.
The Bede BD-5 was originally developed in 1970 by Jim Bede of Bede Aircraft Company. Bede published a booklet about the plane, and it quickly gained a lot of press and interest from potential owners. In February, 1971, the company began taking $200 deposits for the planes, and by year's end, they received over 4,300 orders according to Wikipedia. In 1972, Bede hired Burt Rutan, who helped develop and test it. Rutan later founded Scaled Composites. The BD-5J was a jet-powered version, and the most popular version, hitting 300MPH. In addition to being flown in Octopussy, it was also flown in air shows throughout the 1980s by Coors Light, who called the planes Silver Bullets. Bud Light flew one as well.
G/O Media may get a commission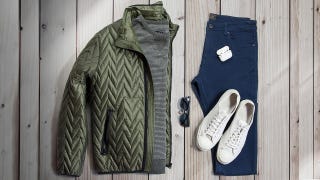 60% off
Jachs NY Fall Sale 60% Off
Sonex JSX-2 (Photo by Paul Thompson)
There's a similar-looking kit plane out there on the market today — the Sonex Subsonex JSX-2. I saw this bad little plane this summer at EAA AirVenture in Oshkosh. Though it cruises at only 240MPH, it only weighs 480 pounds empty, seats one and has a range of about 500 nautical miles. It's only 16'6" long and has an 18' wingspan. The JSX-2 is still officially an experimental plane, as it first flew with a new engine in July, 2014. The list price for one of these kit planes is $130,000, according to FlightGlobal. First deliveries of the kits to homebuilders are expected early next year.
If a land-based vehicle is more your style, the hovercraft from Die Another Day will also be sold at auction, and is expected to go for about $40,000.