Exterior Design: ***
My man MCA's got a beard like a billy goat, which is exactly what the oversized grill on the A4 resembles. But, unlike on most people, the A4 rocks the goatee well. And it's got a little bit of flava in the headlight and taillamp treatments to give a little bit of soul to the normal Bauhaus sterility of Audi design. But only three stars, you say? Yes. It's a good-looking car, but hardly worthy of study-hall sketches or bedroom wall posters.
Acceleration: ****
From a stop the A4 3.2 is faster than it feels, but the engine really shines in mid-range passing. 90 percent of the 243-pound-feet of torque is available from 1,900 rpm (thank you, press release). The throttle feels smooth but could be more responsive, kind of like Teri Hatcher's botox'd skin.
Braking ****
The brakes are one of the A4's strong suits. They feel good, resist fade, and bring you speeds down in a hurry. Sure, the A4 isn't cheap, but it makes you wonder how so many cars make it to market with craptacular brakes.
Ride ****
Actually a bit of a surprise here. The A4 handles bumps well and cruises down the highway like it's driving on velvet. Okay, it's not quite that smooth, but it's still good.
Handling ****
Again, the A4 pleasantly surprises. It's front-heavy and deliberate in the way it attacks a corner, but the A4 can do a rendition of Shake Your Rump good enough to tell our memory that it got served. Our test car had the S-line package, which includes a 30% stiffer suspension that's lowered by 20 millimeters. And wouldn't you know it, it actually does give "more dynamic and sporty driving without without sacrificing driver/passenger comfort." For once, the press release isn't full of hyperbolic b.s. But, if it's so good, why not make that the normal suspension? Oh, snap!
G/O Media may get a commission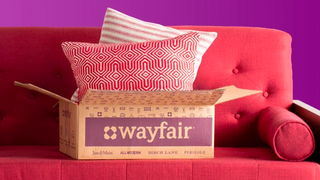 Big deals
Wayfair Surplus Sale
Gearbox ***
The six speed manual is better than previous Audi stick shifts, but it's still a little to damped to feel what gear you're selecting and the clutch, while light, is too abrupt.

Audio/Video ***
The standard radio features an in-dash 6-CD changer and a tape player. Sound performance is good, as are the radio controls.
Toys **
Not only buttons on the steering wheel, but an actual click-wheel to control volume or moving through radio presets. Our test car lacked a multifunction trip computer found on most VW/Audi vehicles.
Trunk *****
It's big and lined with carpet. This is how every trunk should look.
Value ***
$40 grand is a lot for a car, but if you consider the price for the top-of-the-line engine in the competition, the A4 isn't too much of a rip-off. Be careful with the options an you could keep the price down closer to $37 large.
Overall ****
Like we said before, this is the anti-Banglemobile. And in many ways it looks better and it easier to use. What's more is that the A4's styling, even two generations old, has aged well. If you're not the new-every-two leasing type, chances are you'll still look somewhat cool for years to come.
[by Mike Austin]
Related:
Jalopnik Reviews: Audi A4 3.2 Quattro, Part 1 [internal]