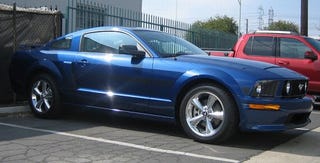 Jalopnik Reviews
All of our test drives in one convenient place.
Why you should buy this car: You like American cars — big, fast and sloppy at the limit. (If they weren't, what would Euro snobs have to brag about, soccer?) To your mind, dumping the clutch never died, it just faded away. You consider the Shaker 1000 stereo to be what the Infiniti G35's Studio on Wheels by Bose is to audiophiles. You don't mind the cops pulling you over to ask questions about your car.
Why you shouldn't buy this car: You're an Asiaphile who's aware that, for the same money, you can get a faster, better handling and possibly more fuel-efficient EVO/STI. You lament that the gearbox, interior and brakes are all not built Ford tough. You enjoy autocrossing and in-car sex.
Suitability Parameters:
· Speed Merchants: Yes
· Fashion Victims: Yes
· Treehuggers: No
· Mack Daddies: Yes
· Tuner Crowd: Yes
· Hairdressers: No
· Penny Pinchers: No
· Euro Snobs: No
· Working Stiffs: No
· Technogeeks: No
· Poseurs: No
· Soccer Moms: No
· Nascar Dads: Yes
· Golfing Grandparents: No
Vitals:
· Manufacturer: Ford
· Model tested: Ford Mustang GT California Special
· Model year: 2007
· Price as Tested: $29,985
· Engine type: 4.6L OHV V8
· Horsepower: 300 hp @ 5750 rpm
· Torque: 320lbs. ft. @ 4500
· Redline: 6250 rpm
· Wheels and Tires: 18" Polished Aluminum wheels w/ performance tires
· Drive type: rear-wheel drive
· 0 - 60: 5.5 seconds
· 1/4 mile: 14.1seconds
· Fuel economy city/highway: 17/25
· NHTSA crash test rating front/side/rollover: 4/na/5
Related:
Jalopnik Reviews: 2007 Ford Mustang GT California Special, Part 1, Part 2 [internal]