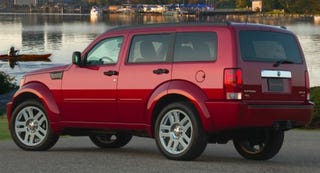 Jalopnik Reviews
All of our test drives in one convenient place.
Why You Should Buy This Car: Looks matter to you most of all. It's impossible to lose in the mall parking lot. You and three of your adult friends go out to eat a lot, and want to do so in comfort. Armored car side metal makes you feel safe and/or secure. You just love sitting up high. That commercial gets you every time, "Rainbows and seashells and blue skies above — now is the time for love. Look around and what do you see? A beautiful world!" The 20" shiny chrome rims are pretty blingtastic. Oh, we're back to looks, aren't we?
Why You Shouldn't Buy This Car: Travel over the slightest road imperfection and the Nitro tries to kill you. Worst riding car in recent memory. While the backseat is indeed comfy, your rear passengers' shrieks of "JESUS!" as you cross even the mildest expansion joint wears on your nerves. It doesn't go off road, even though underneath the svelte looks, it's a Jeep. Very limited cargo potential. Humdrum, ho-hum, parts bin interior. Very boring to drive straight and hopeless on twisty roads. High center of gravity makes it feel tippy. Horrific to park. Less than 20 mpg. Style, my friends, all over substance.
Suitability Parameters:
· Speed Merchants: No
· Fashion Victims: Yes
· Treehuggers: No
· Mack Daddies: No
· Tuner Crowd: No
· Hairdressers: No
· Penny Pinchers: No
· Euro Snobs: No
· Working Stiffs: No
· Technogeeks: No
· Poseurs: Yes
· Soccer Moms: Yes
· Nascar Dads: Yes
· Golfing Grandparents: No
Vitals:
· Manufacturer: Dodge
· Model tested: Nitro R/T 2WD
· Model year: 2007
· Price as Tested: $29,821
· Engine type: 4.0L SOHC V6
· Horsepower: 260 hp @ 6000 rpm
· Torque: 265 lb-ft @ 4200 rpm
· Redline: 6250 rpm
· Wheels and Tires: 20" Aluminum wheels w/ 245/50s
· Drive type: rear-wheel drive
· 0 - 60: 7.7 seconds
· 1/4 mile: 15.9 @ 86.3mph
· Fuel economy city/highway: 17/21
· NHTSA crash test rating front/side/rollover: NA
Related:
Jalopnik Reviews: 2007 Dodge Nitro R/T 2WD, Part 1 Part 2