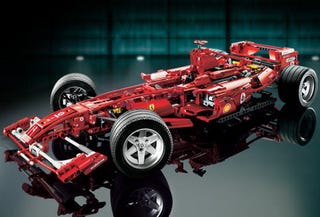 Though you don't quite get the low wind resistance of the real thing, this gorgeous 1:8 scale Ferrari F1 model from LEGO is a lot more than just a toy. Or maybe it's just a toy, but it's a fantastic one. Over two feet in length, this great clone features a working steering wheel, suspension and moving pistons. Having toyed around with one of these, I can tell you that you'll have as much fun putting it together as you will showing it off to friends. Product details below:
Build the sleekest Ferrari F1 Racer!
Bigger, more detailed, and with more built-in functions than ever before, the 1:8 scale LEGO® Ferrari F1 Racer is the ultimate driving machine! With a working steering wheel, engine and suspension, a removable engine cover, spoiler and nose, this authentic model captures all the sleek details of the real-life Scuderia Ferrari F1 race car. For a LEGO builder, Ferrari collector or racing fan, this is a great addition to any collection!
* Remove the engine cover to see the moving pistons!
* Includes real working suspension!
* Model measures over 24" (61cm) long!
* Detailed tires measure over 3" (8cm) wide!
* Working steering wheel turns front tires!
* Built in realistic 1:8 scale!