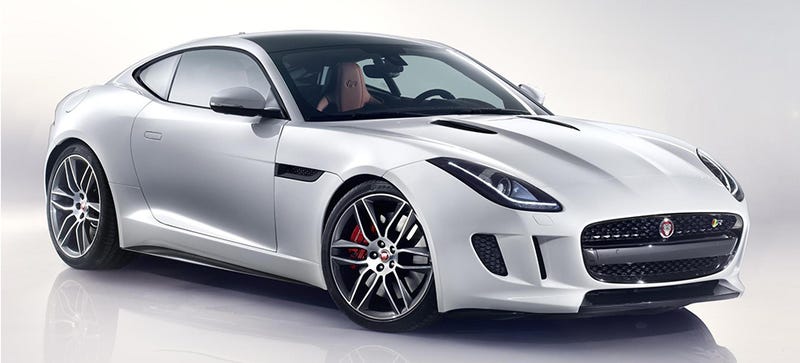 The Jaguar F-Type R Coupe is already a deliriously delightful car, starting with those handsome looks on down to the absolutely bonkers 542 horsepower engine. And now there are rumblings that the world may be bestowed with a super-light, super-fast Club Sport version of the mad cat.
Jaguar would need to build at least 500 examples of the bantamweight F-Type R Coupe, including a racer, Jaguar F-Type Program Director Russ Varney told Autoexpress:
"We have three or four things we are looking at for the next developments of the F-Type and a lightweight, harder version is a long way up that list," F-Type Programme Director Russ Varney admitted.
Varney then went on to say that they were looking to get a "couple of hundred kilos" out of the car, which would be a huge weight savings over the normal model. And that target is incredibly impressive, considering that Lamborghini could only find 100 kilograms to take out of the Gallardo to make the Gallardo Superleggera.
Oddly enough, towards the end it almost seemed like Varney hinted that if you wanted to make the car really, truly light, you'd do it not with the V8, but with the V6 engine from the regular F-type as it weighs less.
Though to be honest, I'd take either one. You'd be the best-looking chap on the track, and all of those fools in their 911 GT3s would just have to go home and cry about it.
Photo credit: Jaguar