The new 2017 Jaguar F-Pace is Jag's first entry into the world of crossovers, and it looks promising. What do you need to know before you buy a Jaguar F-Pace? Don't worry, we'll tell you everything right here in our Buyer's Guide.
Remember that C-X17 concept car Jaguar showed the world at the 2013 Frankfurt Motor Show? Well, the F-Pace is basically that car, and we're glad the brits didn't water down the design for the production model, because it's a damn good one.
The Jaguar F-Type is one of the world's most gorgeous cars. The Jaguar XE is also a fine lookin' piece of metal. So how could Jaguar get into one of the world's blandest, most crowded segments while still staying true to their history of sharp, elegant styling?
The answer is, quite simply: Ian Callum. He's the chief designer and he's also responsible for designing knockouts like the Aston Martin DB9 and the F-Type. With his expertise, Jaguar has designed a crossover that looks a lot like a taller XE on stilts, and that's definitely a compliment.
Jaguar is clearly trying to crank up their sales numbers; the XE is a very reasonably-priced luxury sports sedan and the F-Pace is running with the bulls in possibly the most hotly-contested segment in the U.S. How the Jaguar compares to the rest remains to be seen, but there's no question they've got the styling bit spot-on.
G/O Media may get a commission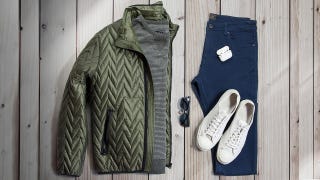 60% off
Jachs NY Fall Sale 60% Off
What's New About The 2017 Jaguar F-Pace
The F-Pace is all new and goes on sale in the spring of 2016 as a 2017 model. It rides on the same all-aluminum platform as Jaguar's XE sedan and offers three engine options: Two 3.0-liter supercharged V6s that make 340 and 380 ponies and a 2.0-liter turbodiesel fuel-sipper that makes a paltry 180 horses.
While European versions get a manual transmission and rear-wheel drive, we 'Muricans don't get the elusive diesel manual wagon. We're stuck with the ubiquitous eight-speed ZF automatic transmission and all-wheel drive.
Because this is a Jag and because this is the luxury CUV segment, there's tons of driver-assist tech and luxury options for this big feline. There's lane keep assist, adaptive cruise control, surround camera, park assist, adaptive damping, and plenty more.
Can it hang with the Audi SQ5 or offerings from its cousins at Land Rover? Who knows, but with its powertrain offerings, copious available tech features, and gorgeous styling, it's got a fighting chance.
Which One We'd Buy
The 2017 Jaguar F-Pace comes in six trims: Base, Premium, Prestige, R-Sport, S and First Edition.
All F-Paces come with electric power steering, a double-wishbone front suspension and an integral link rear setup.
We haven't driven the F-Pace yet, so we can't specify exactly which trim we like best, but a few pokes through the configurator and we're liking the base model with the 3.0-liter V6. Sure, it's not decked out with all the bells and whistles, but it's got plenty of power and comes decently well-equipped.
The base F-Pace costs only $45,600 and gets all-wheel drive, 19-inch alloy wheels, a rearview camera, dual-zone climate control, auto-dimming power fold heated mirrors with memory, automatic headlamps, power liftgate, leatherette seating, 11-speaker Meridian sound system, five-inch central TFT display, INCONTROL TOUCH infotainment system with eight-inch touchscreen, All Surface Progress Control, sliding panoramic roof, power front seats and more.
With all those features and a 340 horsepower V6 that will get the F-Pace to 60 in about 5.5 seconds, the base F-Pace with the V6 seems like it offers good value. While there are other vehicles that offer more standard features for less, if the F-Pace can blend good handling with its elegant styling, it will be a winner in our book.
We can't wait to drive one.
[Build Your Own Jaguar F-Pace]

Important Facts At A Glance:
MSRP: $40,990-$69,700 Top Speed: 155 MPH [3.0L supercharged V6]
Acceleration: ~5.1s to 60 [380 hp 3.0L supercharged V6]
MPG: Not Yet Rated
Engines: 2.0L turbodiesel, 3.0L supercharged V6,
Max Horsepower/Torque: 380 hp/332 lb-ft
Max Advertised Towing Capacity: 5,290 lbs
Curb Weight: 3,912-4,015 pounds IIHS Rating: Not Rated
Transmissions: 8-speed automatic
Drivetrain Layout: Front engine, AWD
Photo credit: Jaguar