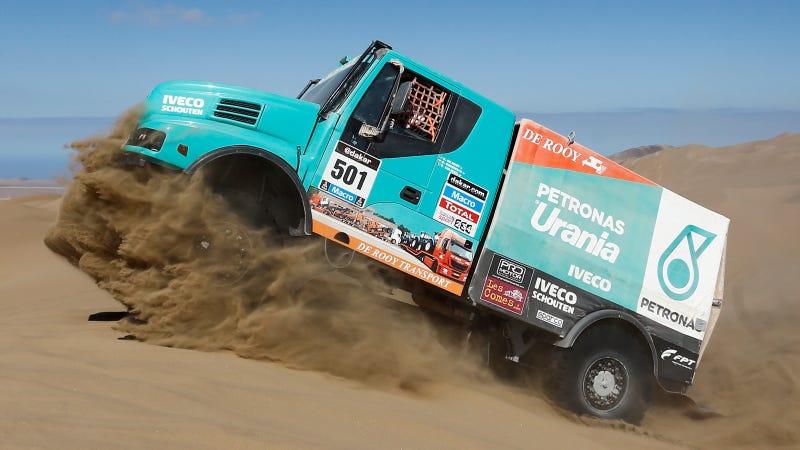 Truck Yeah
The trucks are good!
The 12th stage of the Dakar Rally was 349 kilometers long, the first two hundred of which was rocky soil followed by big sand dunes. At this point cars and quads are pretty much in the bag, but the truck and bike podiums hotly contested going into the last stage tomorrow.
De Rooy's front-engined Iveco eeked past Karginov's Kamaz today, taking first place in Dakar State 12 by just 26 seconds. The Russian Red Bull truck is still 07:25 ahead in the overall standings and will be pushing hard to keep his rival at bay as the race wraps up tomorrow.
De Rooy has lost some of the confidence he had early in the race, musing on tomorrow's stage; "Seven minutes, or seven and twenty seconds… It's going to be a lot but if he has a puncture then it's possible, but otherwise… The trucks have always been very close to each other."
Kamaz trucks occupy first, third, fourth, and fifth place going into Dakar's last day.
The field of bikes is a bit more diverse, the top 24 riders are all within ten minutes of each other. KTM, Yamaha, and Honda comprise the top five. Marc Coma has about a two minute lead, and perennial champion Cyril Despres is 02:14 back in fifth.
In cars, Peterhansel passed teammate Roma despite orders to hang back "because he was really slow." Peterhansel reckoned the other MINI was stricken with a tire puncture, but Roma declined to lead through the dunes and Peterhansel took the win.
Robby Gordon's HST vehicle, which had been plagued by issues for much of the race, finally had to withdraw completely due to a compromised air filtration system and didn't even start stage 12.
If you're one of the elite few who follow quad racing, Most reckon Ignacio Casale will have no trouble winning. However, he has wisely remained humble saying "I'm very close to winning my first Dakar… but it's not over yet. I can celebrate once I've crossed the finishing line."
Image: AP