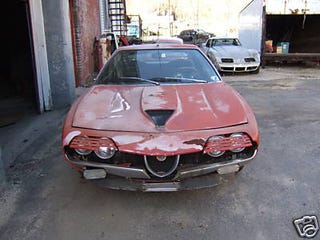 Nice Price Or Crack Pipe
Is this used car a good deal? You decide!
Today's Italian Week Nice Price or Crack Pipe contender is an enigma; a car named after a city in which it was never officially sold — and no, it's not a Lincoln Versailles.
The Alfa Romeo Montreal was introduced in concept form at the 1967 World's Fair, held in — wait for it — Montreal Canada. The production version arrived three years later at the Geneva Auto Show, bearing a strong resemblance to the Expo show car, but on a shorter wheelbase, and with numerous detail changes.
The Bertone-styled car was eye-catching, with louvered headlamp covers, non-functional NACA duct hood, and sleek, coupe bodywork. The mod horizontal slits behind the doors gave the appearance that the car was mid-engined, but the motivating force was under that long hood. That force was provided by a 2593-cc four-cam, aluminum-block V-8 with Spica mechanical fuel injection. All this was good for 230 SAE horsepower, and complemented the neat handling of the Giulia GTV-based chassis, making the Montreal an accomplished grand tourer, with a top speed of nearly 140mph.
But all that came at a price — $8,050 — and at a time when gas prices were spiraling upward, and the economy was tanking. Sound familiar? The Montreal soldiered on, for a total production of 3,917, until the model was discontinued in 1977.
This Montreal has slipped across the border and into Massachusetts, where it is currently rusting in peace. The tin worm has not been kind to this Italian Stallion and the interior isn't much better. But it's good looking, semi-historic, and rare, and that price isn't a lot of cheddar for a V8-powered Italian sportscar with a heritage like this. Now, the seller doesn't offer a By-It-Now price on the car, and who knows what that reserve is, but it's sitting at just under $4,200 so maybe you could swoop in and snipe it for just beans. Even with the rust, and the whole being in Massachusetts thing, it'd look pretty awesome sitting in your garage.
So, Nice Price for an Italian/Canadian immigrant? Or Crack Pipe for a car that should have stayed in the old country?
You decide!
eBay, or go here if the ad scompare.
Help me out with NPOCP. Click here to send a me a tip