This is The Morning Shift, our one-stop daily roundup of all the auto news that's actually important — all in one place at 9:30 AM. Or, you could spend all day waiting for other sites to parse it out to you one story at a time. Isn't your time more important?
1st Gear: Car Sales Flat Last Month
J'accuse mother nature!
After a strong run of growth for the last few months, the cold weather again hampered car sales as it was too cold for anyone to sell a car in a lot of the country.
G/O Media may get a commission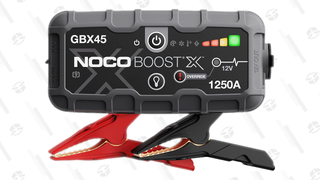 13% Off
Noco Boost X GBX75 Jump Starter
My favorite explanation of this comes via Bloomberg:
"We literally have vehicles frozen to the ground," said Martin, general sales manager of Berlin City Auto Group in Gorham, which sells Ford, Dodge, Chrysler, Honda and Toyota models. "We needed five guys to cut a Corolla out of the ice so that a customer could buy it."
GOD WAS TRYING TO SEND YOU A MESSAGE. BUY A FOCUS ST INSTEAD.
How bad was it? They sold about 1.01 million cars/trucks last month, which puts SAAR — the seasonly adjusted annualized sales rate — flat at 15.2 million (analysts are looking at a SAAR between 15.5 and 16 million for the year).
Winners and losers abound, but mostly losers (full chart here).
Chrysler was up, again, as people started buying Fiats and Chryslers again. Also, when it's freakin' cold outside and your neighbor's Fusion is upside down in a ditch that Jeep starts looking mighty nice. The same goes for Subaru, which continues to grow and may really hit 500,000 cars this year. Nissan outsold Honda with a 12% increase and a record for January, including a big upswing at Infiniti. Hyundai was also just barely up (they also do well on the coast).
Ford and GM were both down 12%, with the only positive not being Lincoln — proving that all Lincoln buyers still live in Florida. Honda was down -2% but Acura did well, so that's something.
The one truly hilarious stat is Maserati, which was up 230%. Granted, that's just 567 cars. Jaguar was up 31% to 1,347 cars. Still… 230%!!!!
2nd Gear: Toyota's Profits Up 5X, Because DREAM!
Just like we told you last week, Devauled-Yen Rules Everything Around Me (DREAM!). We were talking about Honda, but today's news out of Tokyo has Toyota up 5x it's third quarter (our fourth quarter) profits.
How much? 5.2 billion, compared to around a billion dollars the year prior.
So what's going on here? Three things.
1. YEN. They expected 81-yen-to-the-dollar but it's now about 101-yen-to-the-dollar thanks to Shinzo Abe. That means they're making a lot more dollars on overseas sales.
2. Shit was fucked for Toyota last year as they recovered from Tsunamis and the negative impressions left by recalls and anti-Japanese sentiment in China.
3. We don't love all their cars, but Americans generally do and it was an expanding market.
3rd Gear: Subaru Profits Up 6x!
Fuji Heavy Industries — parent company of Subaru — hit a net profit of $776.5 million for the company's fiscal third quarter, up a ton from the same quarter last year of 4120.7 million.
What's up? Yen, of course, as well as a $497 million gain from selling American snowmobile maker Polaris as Automotive News points out. Maybe the wrong time to sell a snowmobile company, eh?
Also, Subaru sold a ton of cars, and continues to sell cars, and might hit 500,000 cars this year.
4th Gear: VW Tennessee Workers Vote On Union Council Feb 12-14
The union showdown in Tennessee in a couple of weeks is going to be the big story because it represents a massive win or loss for one of the parties involved. Weirdly, none of those parties are necessarily Volkswagen.
If the UAW wins and the plant's members vote for a Works-Style Council similar to what they have in Germany, the whole idea of a non-unionized South is basically gone. Once breached, the Great Wall Of Right-To-Work that's kept plants in Alabama and Tennessee and South Carolina free from UAW leaders becomes useless.
It's also a step toward's UAW president Bob King's vision — shared with other unions like IG Metall — of a global union that works in a globalized world. If Bob King fails his legacy is shot.
In the other corner, if the union is shot down, Tennessee Senator Bob Corker wins. The wall holds. He doesn't get pinned in a primary with Tennessee turning into Detroit.
For Tennessee it could mean getting (or not getting) a new 7-passenger SUV. For Mercedes and BMW and other companies it could mean risking the same treatment.
5th Gear: Satya Nadella Is The New Microsoft CEO
We knew it wasn't going to be Alan Mulally, and we've had a good sense for a little while that it was going to be Satya Nadella (and it is!). Who is this guy? You can read this Bloomberg primer.
Here's outgoing Steve Ballmer's take:
Satya is a proven leader. He's got strong technical skills and great business insights. He has a remarkable ability to see what's going on in the market, to sense opportunity, and to really understand how we come together at Microsoft to execute against those opportunities in a collaborative way. I have worked closely with Satya for many years and I have seen these skills many times. He is not alone, though. Our Senior Leadership Team has never been stronger, and together this group will drive us forward.
Reverse: And Now It's Not Failing Anymore..
On February 4, 1922, the Ford Motor Company acquires the failing luxury automaker Lincoln Motor Company for $8 million.

The acquisition came at a time when Ford, founded in 1903, was losing market share to its competitor General Motors, which offered a range of automobiles while Ford continued to focus on its utilitarian Model T. Although the Model T, which first went into production in 1908, had become the world's best-selling car and revolutionized the auto industry, it had undergone few major changes since its debut, and from 1914 to 1925 it was only available in one color: black. In May 1927, lack of demand for the Model T forced Ford to shut down the assembly lines on the iconic vehicle. Later that year, the company introduced the more comfortable and stylish Model A, a car whose sleeker look resembled that of a Lincoln automobile. In fact, the Model A was nicknamed "the baby Lincoln."
[HISTORY]
Neutral: Do You Not Buy Cars When It's Cold? Brrrrr… what do you think?
Photo Credit: Getty Images