The new Tacoma is a good truck, it's not a great truck. Toyota has the money and resources to make a mid-size pickup that would knock it out of the park. But despite serious competition from GM, Toyota bunted on this pitch. The took the base hit because they didn't have to swing any harder.
Our man David Tracy had this to say after wringing out the new Taco both on and off-road -
"I don't think Toyota has done enough yet to keep General Motors from grabbing conquest buyers out of Toyota showrooms."
That is because most Toyota truck buyers aren't shopping in GM showrooms. Just like Toyota isn't worried that the new Malibu is going to steal an Camry buyers. People buy Camrys, and continue to buy them, because they want a mid size sedan that they don't have to worry about.
Tacoma buyers, for the most part, want the Toyota because they perceive it will be the more reliable truck in the long run compared to the GM offerings. The Colorado/Canyon may hold up very well after many years of use, but the Tacoma has had that longevity legacy for awhile. Almost everyone knows someone with an old Taco with 300,000 miles on the clock and it's still running strong.
G/O Media may get a commission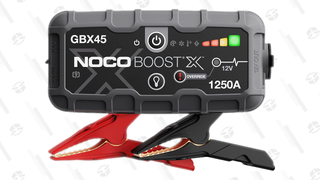 13% Off
Noco Boost X GBX75 Jump Starter
A few months back I had a customer who wanted to up grade his early 2000's Tacoma to a 2014 model. I asked if he wanted to check out the Colorado as well. He said, "Those look like cool trucks and all, but my Tacoma has treated me well and I'm sure the next one will do the same. I just don't know if I want to roll the dice on a Chevy."
According to GoodCarBadCar.net, Toyota sold over 155,000 Tacomas in 2014, and in 2015 has moved almost 106,000 units so far. On the other hand Chevrolet has sold about 49,000 Colorados this year, and GMC found almost 18,000 buyers for the Canyon. The pre-updated Tacoma has a commanding lead over what are arguably better trucks. I'm sure there were a few folks that defected from Toyota to try something different
More reviews will come out, and truck fans will take to the internet complaining how the 2016 Tacoma's interior should be nicer or the gas mileage should be better. Yet anyone who is actually in the market for one will eventually stroll on in to their local Toyota store and drive home with a new Tacoma.
The sad part about all this is there was probably quite a few very talented and enthusiastic Tacoma engineers with big plans on how to make the 2016 model the best ever. There was probably some super awesome trail running version with monster tires, crazy suspension travel and all the auxiliary lights you can dream of.
Then a Toyota bean counter showed up to the pitch meeting and said, "These are great ideas ladies and gentleman, but we don't need to make the 2016 Tacoma that good...we just need to make it good enough."
That is what loyalty buys you.
If you have a question, a tip, or something you would like to to share about car-buying, drop me a line at AutomatchConsulting@gmail.com and be sure to include your Kinja handle.