The mid-engined Chevrolet Corvette. It is as mythical and fleeting as a unicorn, or the new Frank Ocean album. For decades now—literally decades—General Motors has flirted with a mid-engined 'Vette that could really take the fight to European exotics. It has never happened. So why is GM now spending $290 million to upgrade the Bowling Green, Kentucky plant where the Corvette is built?
GM has been spending quite a bit of money lately upgrading its facilities, but today Automotive News reports the automaker will drop a pretty penny on the Bowling Green Assembly Plant—where the Corvette and only the Corvette is produced—for "technology upgrades and manufacturing process improvements."
This, naturally, leads to speculation that the upgrades could be for a final-form Corvette with its engine in the middle of the car for proper weight distribution and the humiliation of Ferraris and Lamborghinis—not to mention the Ford GT that just won its class at Le Mans.
Could the upgrades be for that car, or just the regular, front-engined next generation C8 Corvette due out in a few years? Lately Car and Driver seems to think the mid-engine 'Vette is a lock:
It's time for an updated report on the mid-engine C8 Corvette, and here's the game plan as we understand it from our impeccable source: The 2019 Chevrolet Corvette (code name: ZERV, perhaps chosen as an homage to Zora Arkus-Duntov's 1960s mid-engine CERV concepts) will bow in production form at the North American International Auto Show in Detroit in January 2018 with a version of today's pushrod V-8 engine delivering 450 to 500 horsepower. Expect a base price of approximately $80,000.
When volume production begins, presumably later in '18, today's C7 Corvette will expire, although there should be remaining stock for those who prefer the traditional powertrain layout used for more than six decades. The C7's final hurrah will occur at next year's 2017 NAIAS, when a swan-song mega-power edition debuts, possibly wearing the illustrious ZR1 badge.
G/O Media may get a commission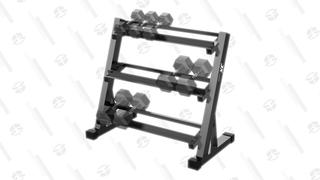 20% Off
JX Fitness Dumbbell Rack
Gains but tidy
Has a three-tier design to help store more weights more conveniently, can safely support up to 1000lbs of weight, which should be enough for most people, has a triangle base for stability, and also features anti-scratch feet which is great if you've built your own studio or workout in your garage.
A 2017 end date for the current (and objectively excellent) C7 Corvette would be much shorter than the lifespans of Corvettes past. And many GM cars. At the same time, strange mid-engined-looking Corvette prototypes have been spotted running around over the last year.
Will it happen, finally? GM has flirted with the idea for a long time but the cars have never moved past the concept, prototype and bespoke race car phase. It's also a tough idea to justify cost-wise. I'm at the point where I'll believe it when I see it sitting in dealer lots.
If you have any information about the mid-engined Corvette, please do email us at tips@jalopnik.com.