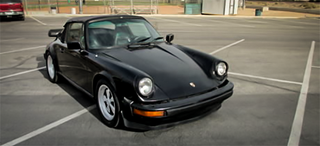 There's no car in the world that harnesses the desire of the sports car buyer better than an old Porsche 911. Prices for low-mileage examples have shot through the roof in recent years, but you can still find some models with a few frayed ends like this '79 Cabrio ready to come home with you for a song. But is it worth it?
This 1979 Porsche 911 Carrera Cabriolet is a rare sight. Its trademark whale tail and five spoke alloys make the car stand out as a big dog car, even if it does have less power than a base model six cylinder Toyota Camry. With popularity for every 911 model hitting its ceiling, the lesser ones like the late '70s targas and convertibles often get the short end of the stick, this being no exception. However, the price, which stands at less than $12,000 at the time of writing, is one of the cheapest intact and running vintage 911s on the market today.
From what we can tell by the blurry pictures and quite limited description, we can deduce that the car needs some body work on the front left fender, a new top, and some engine seals and gasket work, if not an entire rebuild from a lifetime of questionable repairs and maintenance. Here's an excerpt:
Fair to good. Essentially all original except a after-market convertable top replacement, in fair condition. Left front fender damage at/about headlight and left turn signal lens missing. After-market radio/CD player installed not wired. Starts, runs/shifts well... very fast car. All new brakes. Cocoa mats. Wide tires with plenty of tread on original Porsche wheels. Paint fair to poor. Interior worn but not torn, abused. It's a 30+ year old car.. not restored or reconditioned. Garaged. Has some oil leakage for it's age
With the appreciating value of these cars, it would be a smart buy if only the frame doesn't have rust. Everything else can be refurbished or replaced relatively inexpensively, especially if work is done at home over the course of a few weekends and a many, many beers. It's a running, driving project car that can't be beat in terms of iconic pedigree and there's a good chance you'd be able to polish some dollars into the car's finish. I'd check it out.
---
Tavarish is the founder of APiDA Online and writes and makes videos about buying and selling cool cars on the internet. He owns the world's cheapest Mercedes S-Class, a graffiti-bombed Lexus, and he's the only Jalopnik author that has never driven a Miata. He also has a real name that he didn't feel was journalist-y enough so he used a pen name and this was the best he could do.
You can also follow him on Twitter and Facebook. He won't mind.